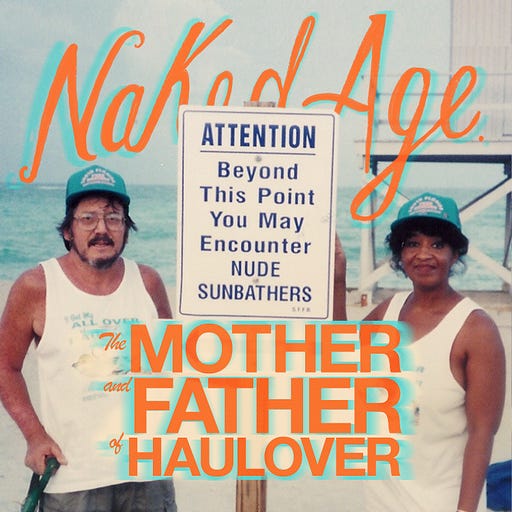 Dec 12, 2022 • 1HR 12M
The Mother and Father of Haulover
We meet two pioneers of the US beach movement who created the model for launching a legal nude beach
A historical audio series exploring uncommon people who have gone to extraordinary lengths to incorporate nudity into their lives. It's an interview series profiling activists, artists, individualists and misfits who have a singular point of view on the world.
In this episode, we'll meet Shirley and Richard Mason, two pioneers of the US beach movement who created the model for launching a legal nude beach, when they boldly established residency on Florida's popular Haulover Beach. Plus, a brief history of nude beaches in "puritan besmirched" America. Enjoy! 
Listen to all episodes of Naked Age at NakedAge.co.
Links
South Florida Free Beaches
B.E.A.C.H.E.S. Foundation
Treasure Coast Naturists 
The Naturist Action Committee
Research made possible by
This episode of Naked Age was supported in part by an AANR Education Foundation Sponsorship Grant. Learn more about AANR-EF's mission and make a donation at http://aanr-ef.com
Read the "Behind the Episode" notes:
---
Credits
Clips
Title: Nude bathing in Jacob RiIs Park, New York; Source: AP Archivehttps://www.youtube.com/watch?v=Az_4CT4Pvk0

Title: OC in Two: Nudist rally planned at San Onofre State Beach - 2009-09-10; Source: Orange County Register. https://www.youtube.com/watch?v=xDey_PTI1vk

Title: Local News Segment "Topless Sunbathing on Miami Beach" '90's; Source: WPLG Local 10 | Miami News; uploaded by Siresounds. https://www.youtube.com/watch?v=xlN-LzjmWw8

Title: Cuba: The Mariel Boatlift - Crime Wave (1980's); Source: Uploaded by Mobfax. https://www.youtube.com/watch?v=gwuuAplCSpc&t=26s

Title: Oral Argument, Feb 26th 1975; Opinion Announcement, Jun 23rd, 1975. Source: Justia Supreme Court Center, https://www.oyez.org/cases/1974/73-1942

Title: Civil Rights Act Of 1964; Source: AP Archive. https://www.youtube.com/watch?v=sQjNESlx5Zc
Music