Support
Support our mission at Planet Nude
Planet Nude is more than a newsletter—it's a vital organ for nudists and naturists. We delve into the intersection of nudity and society, offering well-researched articles, engaging discussions, and a platform for nudist culture. By supporting us, you're backing a dedicated voice that educates, informs, and breaks down barriers facing the naturist community. Your contribution ensures that our content remains thoughtful, relevant, and free-spirited, reflecting the naturist ethos.
Many ways to support
Become a paid subscriber: The best way to support Planet Nude. By subscribing, you directly support our mission. In return, you'll gain access to a wealth of exclusive content and our full archives.
Make a donation on Ko-fi: If a monthly or yearly subscription isn't right for you, consider making a one-time or recurring donation. Every little bit helps us continue our work. This is also great if you already have a membership but want to make additional contributions.
Submit writing: Our primary goal at Planet Nude is to highlight a diverse array of viewpoints. Share your perspective with the nudist community. Check out our submission guideline for details.
Shop in our gift shop: Discover our Planet Nude exclusive apparel and books on Etsy, where each purchase bolsters our efforts and promotes naturism. Wear your support and explore our collection today.
Gift a subscription: What better way to spread the word about naturism than by gifting a paid subscription? It's a meaningful way to support us while introducing others to the community.
Donate a subscription: By donating a subscription, you help someone who otherwise can't afford it support the blog and get the benefits of a paid subscription, to be used at our discretion. This is a great way to pay it forward to someone else in the naturist community.
Share and refer: Help grow our community by sharing articles and referring new subscribers. Our referral reward program thanks you with free subscription credits, making your voice an active part of our growth.
Why your support matters
Planet Nude makes a tangible difference in the naturist community. It provides vital context and understanding for both seasoned naturists and newcomers interested in body freedom and nude rights. We shed light on the real-world challenges faced by naturists in North America and beyond. We've developed a platform that fosters discussion and community engagement.
All of this work is driven by our passion for naturism. We are deeply grateful to our current supporters who have made it possible for Planet Nude to compensate contributing writers and artists. However, it's important to note that our platform is a full time, voluntary labor of love, and does not provide primary income for anyone involved. Our ongoing aspiration is to achieve this financial sustainability to ensure the continuity of this essential mission. By becoming a paid supporter, you help us toward this goal.
Subscriber testimonials
A few positive words about our work from our wonderful paid subscribers.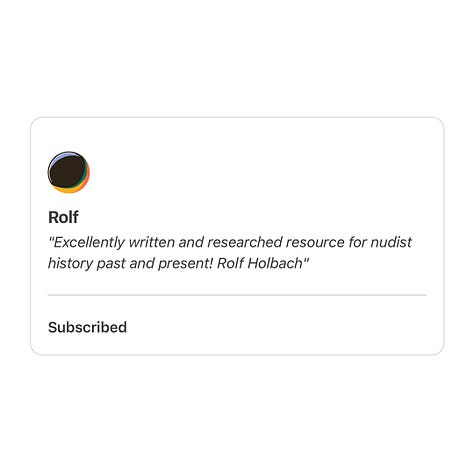 Join us
Join us in our mission to advocate and educate, shining a light on the freedom and joy of naturism. With your support, we can continue to make a difference, ensuring that the values of body freedom and expression are heard and celebrated. 🪐