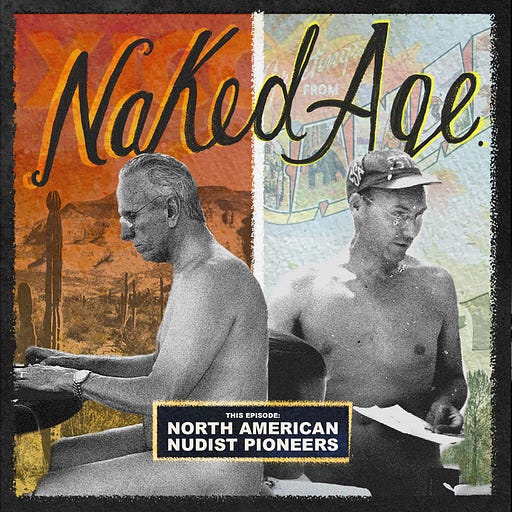 Jul 13, 2022 • 43M
North American Nudist Pioneers
Exploreing the parallel paths of two nudist pioneers whose stories take place over seventy years apart
A historical audio series exploring uncommon people who have gone to extraordinary lengths to incorporate nudity into their lives. It's an interview series profiling activists, artists, individualists and misfits who have a singular point of view on the world. Check out the behind-the-episode notes for each episode at http://www.planetnude.co/t/naked-age-notes
This episode of Naked Age explores the parallel paths of two nudist pioneers whose stories take place over seventy years apart. First we look at Ray Connett, an influential figure of early Canadian nudism who helped establish that country's first national nudist organization. Then we meet Gerardo Cisneros, a Mexican nudism advocate whose hard work and clever initiative has helped bring a budding Mexican nudist movement into full bloom. 
(Episode originally published July 13, 2022)
Gerardo Cisneros
The Nudist Federation of Mexico
The Zipolite Nudist Festival 
Research made possible by
This episode of Naked Age was supported in part by an AANR Education Foundation Sponsorship Grant. The AANR Education Foundation is a charitable partner of the American Association for Nude Recreation, providing grants and scholarships to organizations and individuals that support the Foundations goals and objectives, which are to educate the public about the values and benefits of nude recreation, and to ensure an understanding of nudism and its rightful status as a social and recreational practice. Learn more about AANR-EF's mission and make a donation at http://aanr-ef.com
Read the "Behind the Episode" notes:
---
Credits
Clips
This Nude World, Crown Pictures/Monogram Pictures Corp., USA, 1933. 62 min. Excerpt: 00:01:46-00:01:55.

Ray Connett on Phil Donahue, 1994; YouTube. Uploaded by Bare Oaks Family Naturist Park  https://www.youtube.com/watch?v=oB6dUj1popQ

Stéphane Dechênes, from the New Nudist Podcast "Ep22: Stéphane & Evan, Plus Will Forrest on His Nudist Pirate Novel 'Skinners'" (Jun. 2022) - Courtesy of Scott Cline
Ray Connett Early Canadian Nudist History (1983) - Courtesy of American Nudist Research Library

Gerardo Cisneros personal interview, May 5 2022.  
Music