Discover more from Planet Nude
A newsletter and podcast promoting body freedom and exploring nudity and nudism in history, culture, politics, and art.
Over 2,000 subscribers
Unashamed: A Romance (1938)

Directed by Allen Stuart

Written by William Lively and P.C. Prescott-Richardson

Starring Rae Kidd, Robert Stanley, Lucille Shearer, and Emily Todd
Of all the nudist films I've watched, Unashamed: A Romance is one of the most engaging. It does a lot of the same things most nudist films do, which is to say that it's an exploitation film using nudism as a guise to show audiences nude bodies that they otherwise wouldn't get to see. What makes it surpass its peers is how layered it is, going beyond being a simple nudist romance by including themes of race and class (however intentionally), by having some simply outstanding moments of filmmaking, and by being quite tragic in the end.
Unashamed is the story of Robert, a hypochondriac businessman who is on far too many medications, and his secretary Rae, whose love for Robert goes unrequited. Rae is introduced in a way that's problematic, but crucial to the story: though it's stated she's Caucasian, Rae stands out from the other women she works with, who make some uncomfortable comments about her looks.
Most nudist films are as white as can be, and her racialized presence complicates what would otherwise be a simple film, affecting every other part of the story. In a last ditch effort to gain Robert's affection, she convinces her doctor (who also has unpleasant comments about Rae's appearance) to send Robert to the nudist camp she frequents, both to improve his health and to show him who she truly is in a setting where she isn't quite an outsider.
Nudist movies are typically framed from an outside perspective, with a lead character new to the experience visiting a camp for the first time and falling in love over the course of the runtime. Typically, we see some discomfort from the outside lead, some hesitancy to undress, but Robert has no problem with any of it. He excitedly rolls up to the gate of Olympic Fields in Cleveland National Forest, meeting the camp's real owner, Peter McConville. While he takes his time undressing in his cabin (a scene usually reserved for women in other films), he does it with little discomfort, taking a moment to admire himself in the mirror before stepping outside to greet the camp's other members.
Rae's plan works: the two get along great at the camp, and are shown playing various sports together as well as throwing rocks at all of Robert's medicine bottles and napping in the sun. The camp truly feels utopian, gorgeous and packed with people enjoying all kinds of nude activities together. Despite some wonky acting, the chemistry between the leads is great, and there's a real lively energy to everything they do together. Rae seems truly happy.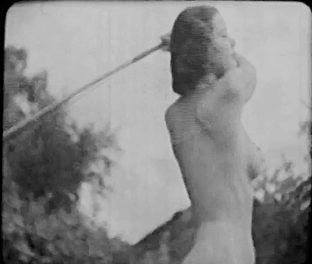 The romance comes unraveled however, when pharmaceutical heiress Barbara Pound and her assistant Emma wind up at the camp while on the run. The two newcomers are swiftly welcomed in as new members, and Robert immediately drops Rae for Barbara.
This is one of the things that makes Unashamed so unique: the idea that nudism strips people not only of their clothes, but their job and social status as well, putting everyone on equal ground, is a great one, but it doesn't fully work in reality. Rae is at home at the camp and in nature, but she still stands out from the other nudists around her. You can never truly shed who you are. Barbara is closer to "traditional" (white 1930's American) beauty standards with her fairer skin and hair, as well as her slimmer proportions. In no time, Rae is once more an outsider, never getting another line of dialogue after this, but the film never alienates the viewer from her perspective and remains on her side until the very end.
With Rae's heart broken, the movie takes a major tonal shift, leading to a truly tragic ending. Seemingly to counterbalance the dark turn the story takes, the film also has unusual segues featuring a ventriloquist and his nude dummy Woody, whose strange face and Mickey Mouse voice will unnerve even the most desensitized viewer. These scenes are what makes the film more unusual, and even include a truly baffling philosophical discussion which turns into a musical number led by Woody. There's also a brief gag that's a personal favorite: as Rae runs through the camp the morning after Robert stands her up on her birthday, she passes a couple posing with a dog in full period costume, being painted by a group of nudists. A perfect inversion of the usual image of artists painting models!
Early nudist films lean towards classical, artistic staging in order to obscure the genitals of their subjects and get past censorship laws, but Unashamed, due in part to its gorgeous Olympic Park setting and natural light, really shines with its compositions. The gothic look that the final act moves into is especially great, with the editing getting more erratic to match Rae's emotional state. The movie's score is also quite effective, if a little overbearing in places. As a quickly and cheaply made roadshow exploitation movie, there are plenty of technical errors and poor acting to be found, but none of it really distracts from how strong the imagery and storytelling are, as there's so much to consider about the characters and their relationships with one another. These most recent rewatches revealed just how pointedly Emma is compared to Rae, being the only other character who seems to be of a different nationality and working for someone else.
All of these elements are what make Unashamed a movie worth watching and returning to, with more details and thematic touches revealing themselves each time. It's easy to see why it's been preserved by the National Library of Congress, even if only from a historical perspective. It's a refreshing change of pace if you're more accustomed to low quality documentaries from this period, or if you're tired of seeing the same footage over and over again in Doris Wishman's films.
The film is available on Bluray from Kino Classics and Something Weird, with an insightful commentary by Alexandra Heller-Nicholas included. The disc also has Elysia, Valley of the Nudes (1933) on it, along with three shorts: Hollywood Script Girl (1938), Nudist Land (1937), and Why Nudism: An Exposé of Nudism (1933). 🪐
Thanks for reading Planet Nude! Subscribe for free to support our work.