Discover more from Planet Nude
A newsletter and podcast promoting body freedom and exploring nudity and nudism in history, culture, politics, and art.
Over 2,000 subscribers
The "Fire Light" who brought nudism to Brazil
Remembering Luz Del Fuego on Brazil's Day of Naturism
February 21st is known in Brazil as "Day of Naturism", celebrated in honor of Luz Del Fuego, who was born on that date in 1917.
Luz Del Fuego was a Brazilian feminist, performer, snake charmer, and naturist who rose to fame in the 1940s for her highly controversial nude dance performances. Born Dora Vivacqua in 1917, she later adopted the stage name Luz Del Fuego, inspired by an Argentinian lipstick brand. Luz Del Fuego was not only known for her unique beauty, but also for her intelligence, passionate spirit, and gumption. She was a controversial figure for her use of nudity in dance and activism, who used her fame as a platform to criticize political hypocrisy and advocate for social reform.
Luz Del Fuego's dance performances featuring live snakes were a huge attraction and drew large crowds. Inspired by a book about Macedonian and Babylonian priestesses who danced with snakes, she trained boa constrictors as they were considered the least dangerous to work with. Despite being bitten hundreds of times, she even kept a pet pair of snakes, Cornelius and Castorina, loose in her home. Her dance performances, some of the first known to employ nudity in Brazil during this time, were controversial and attracted press. She was written about widely and even appeared on the cover of Brazil's LIFE magazine. Her fame eventually attracted the movie business, and she even appeared in a few films.
Despite her popularity, Luz Del Fuego's libertine attitudes and free expression of nudity aroused the dislike of authorities. She was repeatedly accused, arrested, fined, committed, and forced to undergo psychological tests throughout her life. Her public spats with burlesque contemporaries such as Elvira Pagã and Virginia Lane added to her controversial reputation.
In addition to dancing, singing, writing, and acting, Luz Del Fuego was an avid naturist. She had become aware of the growing nudism/naturism movement in the United States and Europe during her travels, and was inspired to write a book about naturism in 1948 titled A Verdade Nua. The first edition was censored and seized by police, but was later republished. The book launched the theoretical premise for a Brazilian naturist movement. She also launched Naturalismo magazine, which would eventually reach more than 20 editions.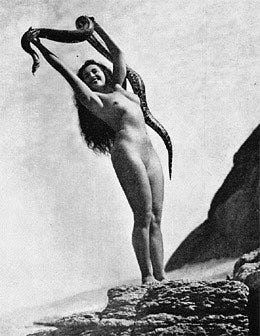 By the late 1940s Luz began to get more serious about promoting nudism in Brazil. In 1949 she established the Brazilian Naturalist Party [sic], intending to run for federal office. She even promoted her campaign half-naked on the stairs of the Municipal Theater in Rio de Janeiro. But the political party was never officially registered, and Luz's brother Attilio, who was a senator, lobbied against her because he felt that her advocacy for progressive ideas could be detrimental to his political career.
She wasn't dissuaded from spreading the word of naturism in Brazil. With nowhere to legally gather socially nude in the country, Luz Del Fuego set out to establish the first naturist club.
In 1950, she obtained authorization from the Navy to live on an island in Guanabara Island Bay and founded the Clube Naturalista Brasileiro, the first known naturist club in Latin America. She renamed the island "Island of the Sun" and made it mandatory for everyone, including reporters and officers, to go nude when visiting the island. The club reportedly attracted names such as Ava Gardner and Brigitte Bardot.
In 1960, she made the island her permanent residence, dedicating years to renovations and construction. In 1965, she reported criminal visits to the police, and later accused others of committing crimes in the region.
Tragically, Luz and her caretaker Edigar Lira were murdered on July 19, 1967 by two local fishermen. The disappearance made headlines across the country, with some speculating it was a publicity stunt. The bodies were found at sea two weeks later, and the killers were sentenced to 31 years in prison the following year.
Luz Del Fuego was a ferocious leader, an adamant feminist, and a pioneer who challenged social stigmas and political hypocrisy. She impressed an indelible mark upon Brazilian culture and left an incredible legacy behind. Her birthday, Feb 21st, is remembered and celebrated by naturists as the Brazilian Day of Naturism.
Over the years, Luz Del Fuego has inspired generations of women and artists with her ferocity of spirit. For example, In 1975, Rita Lee of the band Os Mutantes wrote a song celebrating the late naturist called "Luz Del Fuego".
In 1982 a film was released, a semi-fictionalized biopic about the life and legacy of Luz. The film was called Luz Del Fuego.
In 2013, a lost documentary from 1954 titled A Nativa Solitária was found and restored by the Espírito Santo Public Archive. The film depicted Luz and several other nudists on her island.
Even today, Luz Del Fuego continues to inspire new creative works, 56 years after her untimely death. Her passion and bravery has spoken to people of subsequent generations beyond the borders of Brazil.
Luz was a firebrand who left a lasting impact on Brazilian society through her performances and advocacy of naturism. It's hard to imagine Luz Del Fuego existing and affecting culture in the same way today. As Brazil and the world grapple with a new breed of authoritarianism, Luz' story is a reminder of the importance of casting off social expectations and allowing your passion to burn white hot. 🪐
---
Thanks for reading Planet Nude! Subscribe for free to receive new posts and support our work.