Discover more from Planet Nude
A newsletter and podcast promoting body freedom and exploring nudity and nudism in history, culture, politics, and art.
Over 2,000 subscribers
Olive Dell Ranch listed for sale
The historic SoCal nudist club is the second in as many weeks to experience a shake up, painting an uneasy picture for local naturists
In a potential development that could send ripples through the nudist community of Southern California, Olive Dell Ranch has been listed for sale. However, the club's general manager insists that the long-standing Riverside County nudist resort is not actually for sale, leaving some in the community concerned and scratching their heads. This confusing news comes on the heels of another announcement just last week regarding DeAnza Springs Resort instituting a clothing-mandatory policy. Should Olive Dell Ranch hypothetically be purchased by a new owner uninterested in running a nudist camp, Glen Eden Sun Club could become the only family nude resort left in the region.
So is Olive Dell Ranch really for sale? It's hard to say.
The situation and its impact
No announcement was made about the listing of Olive Dell Ranch before or after it appeared on the commercial real estate exchange sites Crexi.com and LoopNet.com on August 2nd. The listings make no mention of Olive Dell Resort being a nudist community, referring to it only as an "RV park". The list price for the seventy one year old nudist park is $6.6 million.
Notably, the description on the listing says, "Please contact Mark Glasier (owner), and do not go direct." Mark Glasier is also the listing agent, and the president of a mortgage lending company called Harvest Financial. As of the time of this publication, neither Mark Glasier nor co-owner Brian Cleland have returned multiple messages from Planet Nude seeking comment.
Olive Dell members revealed to Planet Nude on August 3rd that the listing had caught them off guard, and that no announcement or information had yet come from club management at that time. One longtime site-holding member of the club expressed concern over the listing. Olive Dell has roughly 120 full or part time residents.
Soon after the listing started drawing the attention of local members, a message from Olive Dell manager Bobby Kilborn was posted on the Friends of Olive Dell Facebook group, stating:
When reached for comment, Kilborn reiterated this message, telling Planet Nude, "Olive Dell Ranch is not for sale, it is put out there on the web as a current market value analysis." Further inquiries requesting clarification have so far gone unanswered.
Whether the club is actually for sale or the owners are simply analyzing market value, the apparent listing of Olive Dell Ranch, along with the loss of DeAnza as a clothing optional club, paints a potentially worrying picture for naturism in Southern California. The community is now grappling with the implications of having only one major family naturist resort left, raising concerns about accessibility, variety, and the overall health of the nudist movement in the area.
"If rumors are true, the loss of a second nudist resort in as many weeks would be a blow to our community," longtime Olive Dell member Ricc Bieber told Planet Nude. "[Olive Dell] has a long history of enjoyment and standing in not just our community, but the general public as well."
Historic Olive Dell
Olive Dell Ranch's significance in the nudist community dates back to its establishment by nudist Bill Keissel in 1952, when he purchased the 145 acre plot from an Italian goat and olive rancher. Bill, having worked for seven years in nudist clubs before purchasing the property with a modest savings, ran the club with his brother, co-manager Ed Keissel.1
Located on a picturesque sunny Southern California desert mountain property, the ranch became a beacon for nudists seeking a place to relax and connect with nature, and was frequently photographed for nudist magazines in the 1950s and 1960s, with key figures like nudist author Cec Cinder, as well as three former AANR presidents, Hap Hathaway, David Cheek, and Nathan Kates, emerging from Olive Dell during its golden era.
In 1959, Canadian nudist pioneers Ray and Mildred Connett moved into Olive Dell and became the club's managers. Ray Connett co-founded the Natural Life Foundation, a non-landed nudist club that collaborated with Olive Dell to effectively establish a surge in the membership, which grew from just 50 members to over 400 in a few years. Ed Keissel died suddenly of a cerebral hemorrhage in August, 1962.2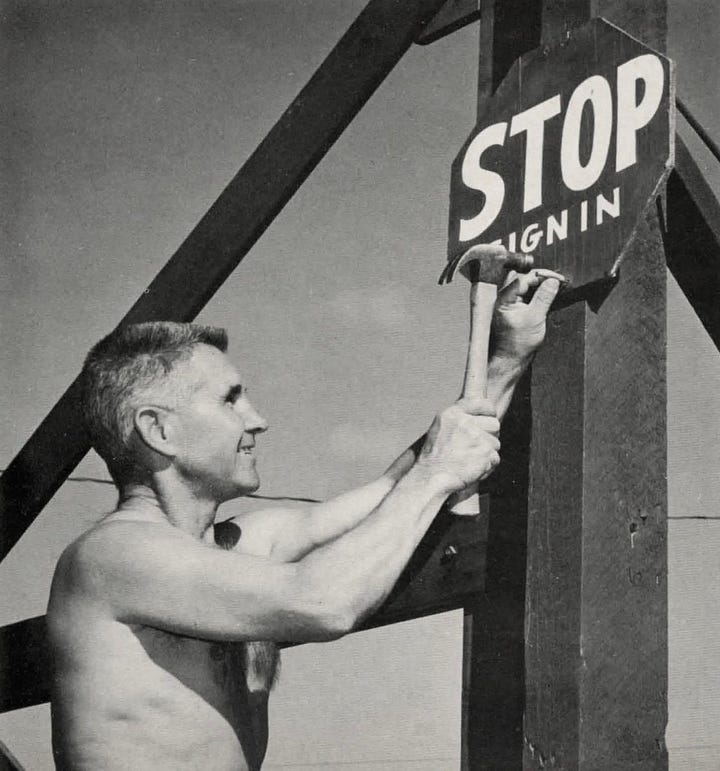 During his tenure as manager, Ray Connett suggested to Bill Keissel the option of converting Olive Dell to a member-owned co-op—as Ray had done previously with Sunny Trails, the nudist club he had founded in British Columbia in 1952. Such cooperative structures often offer benefits like greater financial stability, diversified decision-making, smoother succession planning, a broader pool of resources, and resilience against external pressures. However, Keissel apparently declined the co-op proposal.3 In 1963 the Connetts left Olive Dell to establish Glen Eden Sun Club roughly 40 miles south. Almost immediately they turned it over to the members to run as a cooperative club.
In 1976, Ralph Kilborn, a devoted member since 1961, acquired Olive Dell Ranch. Together with his wife Pat and sons Bobby and Ronnie, Ralph cultivated the community over three decades. Their efforts helped cement Olive Dell as a key fixture in both the California and national nudist landscapes.
Sadly, Ralph fell ill in the late 1990s ushering in a decline, with the infrastructure deteriorating and membership dwindling to under 100 by 2004. Ralph's death in January 2004 marked a turning point.4
As a trustee on the trust owning Olive Dell,5 Ralph's son Bobby and his wife, Becki, decided to rejuvenate the park, investing in much-needed renovations. Older trailers were removed, a new pool and jacuzzi were added, the restaurant was remodeled, and the park received a fresh coat of paint. These efforts not only revived the physical space but also attracted a younger demographic.6 However, some reports indicate the club was also having financial difficulties.7
On July 28, 2019, Bobby Kilborn announced during a membership meeting that Olive Dell Ranch had been sold, and introduced the club's new owners, Mark Glasier, Piper Glasier, and Brian Cleland. The new owners were not nudists, but financial investors with some hotel and hospitality experience. Still, they assured members at the time of their intentions to keep Olive Dell nude.8
Bobby and Becki Kilborn have continued to oversee the management of the club under the new owners.
Analyzing what we know
Possible financial troubles or market testing: The listing of Olive Dell Ranch for sale without any formal announcement or confirmation from the club's management could indicate financial problems. Alternatively, the management might be testing the market to gauge interest and see how much the property might fetch, which is supported by the statement from the manager, Bobby Kilborn, who said that the listing is for market value analysis only. However, this unorthodox explanation provokes some skepticism.
Shift in ownership intentions: The new owners of Olive Dell Ranch who bought the property in 2019, were not nudists but financial investors. This latest development could imply a shift in the intent of the club's operation. The listing, which describes the place as an "RV park" instead of a nudist community, seems to be an attempt to attract a wider audience or buyer pool. It could also indicate that the owners may be more interested in profitability than maintaining the club's nudist traditions.
A legacy in jeopardy
Whether it's true or not, the prospective sale of Olive Dell Ranch would hypothetically mark end of an era. For over seven decades, Olive Dell has been a home for naturists seeking community and connection in Southern California. The prospect of losing this historic site, especially so soon after the loss of DeAnza Springs Resort under similar circumstances—with new non-nudist owners changing course on their investment—raises questions and concerns about the future of family nudism in the region.
It has also reignited online discussions about the merits of the member-owned co-op model within the nudist community. Supporters believe such a model can bolster the longevity and resilience of a nudist club. By embracing collective decision-making, clubs can harness varied insights, formulating responses that resonate with the community's changing needs. Beyond the shared commitment, a co-op approach can diversify financial risks and create a buffer against market unpredictability or outside challenges. Notably, nearby Glen Eden Sun Club's co-op structure may be one reason for its enduring stability, casting a contrasting light on the current predicaments of Olive Dell and DeAnza Springs.
"I was a firm believer that if that this club should support itself," Glen Eden founder Ray Connett once said in a 1981 audio recording for the American Nudist Research Library. "It should not be owned and operated or fostered and financed by one individual, as so many clubs are with the subsequent weakness that they remain the private property of some individual."
Another Canadian nudist club owner,
, puts it a little more succinctly, "Entrepreneurs build clubs, co-ops maintain them."
For those interested in the California nudist landscape, all eyes are now on what comes next, and on the continued success and sustainability of Olive Dell and Glen Eden Sun Club as the potential last strongholds of family nudism in Southern California. If ever there was a time to show Olive Dell our support by patronizing the club and by expressing to the managers the desire to see it remain in business, now is that time. 🪐
---
Keep reading:
---
Join the community. Go paid for just $5/mo.
1
Thomas, Lyle. "Harvest Time in an Olive Grove". July, 1962. Modern Sunbathing and Hygiene.
2
Connett, Ray. "Eddie Keissel Dead". Natural Life #15, November-December, 1962.
3
"129 Ray Connett-Early Canadian Nudist History.mp3" November, 1981. American Nudist Research Library audio archives.
4
Mussell, Gary. "Olive Dell Rebuilds for the Next Generation". November, 2004. Nude & Natural #24.4. https://socalnaturist.org/travel/olivedell2004.html
5
Kilborn v. Kilborn. Court of Appeal of the State of California Fourth Appellate District Division Two. Oct 6, 2017. https://casetext.com/case/estate-of-kilborn-v-kilborn
6
Williams, Pete. "Where Newcomers are Treated Like Old Friends". June, 2012. The Bulletin.
7
"Court of Appeal: Trustee Properly Ousted for Not Running Ranch Like Business". October 11, 2017. Metropolitan News-Enterprise. http://www.metnews.com/articles/2017/kilborn101117.htm
8
Crane, Dennis. "Kilborn Family Announces They Have Sold Olive Dell Ranch". November, 2019. The Bulletin.