Discover more from Planet Nude
A newsletter and podcast promoting body freedom and exploring nudity and nudism in history, culture, politics, and art.
Over 2,000 subscribers
A brief history of naturism in fiction
From Kipling to Kindle: The evolution of naturism in fiction
Some might say that naturism in fiction starts with Adam and Eve (and many more biblical episodes of nudity), or with the myths of the ancient Greeks and Romans. Centuries later, nudity was not all that uncommon in the literature of medieval Europe, often with euphemisms such as "dressed the way she was born." But the beginnings of something akin to a naturist lifestyle portrayed in fiction can be traced back to a couple of turn-of-the-twentieth-century writers, Rudyard Kipling and Edgar Rice Burroughs. Kipling's The Jungle Book (1894) and The Second Jungle Book (1895) introduced a wide readership to Mowgli, a boy growing up nude among wild animals in India.
The popular stories paved the way for Burroughs' numerous novels featuring Tarzan (starting with Tarzan of the Apes in 1912), with adventures somewhat like Mowgli's but set in Africa. In the same year, 1912, Burroughs also published the first of many novels set on Barsoom, A Princess of Mars, in which that planet's residents live mostly clothesfree. The numerous editions of Kipling's and Burroughs' works, along with the many films based on them (in which the protagonists almost always wear loincloths), prove the enduring interest of an idealized return to nature. This remains the case even though both authors' colonialist perspectives have fallen far from grace.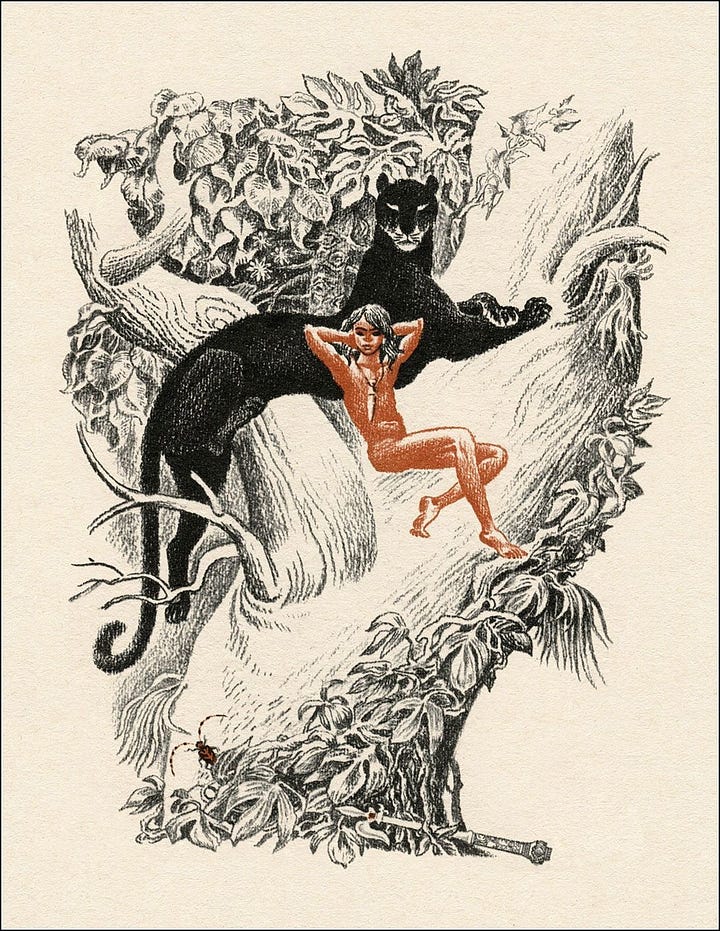 For the purposes of naturism in fiction, what's important about Mowgli and Tarzan is their natural upbringing that belies the utterly arbitrary nature of clothing, as well as the fact that Kipling's and Burroughs' respective works bookend the first writings of naturism as an organized movement. The treatises by Heinrich Pudor and Richard Ungewitter, among others, that appeared in Germany in the first decade of the twentieth century, promoted a life of freedom from clothes and from shame akin to what is depicted for Mowgli, Tarzan, and also for John Carter, the American Civil War veteran who finds himself transported to Barsoom.
From this perspective we can trace a thread of naturism in fiction that is much narrower than merely any instance of nudity in literature. Sometimes characters are simply portrayed in the act of getting dressed, or are nude for erotic purposes, and such instances are discounted here. But other times, the characters—such as Huck and Jim living nude on their raft in Mark Twain's Adventures of Huckleberry Finn (1884), or Remedios the Beauty going about her daily life in the nude in Gabriel García Márquez's One Hundred Years of Solitude (1967)—show the naturist goals of living freely in one's body without shame.
The influence of the nudism movement
The works mentioned so far are not set in naturist parks or "nudist colonies," although there was a flurry of interest in such settings during the heyday of interest in nudism in the United States and United Kingdom in the 1930s. Novels such as The Bishop's Jaegers by Thorne Smith (1932) and Murder Among the Nudists by Peter Hunt (1934) poke fun at nudism as dogma, presenting all sorts of wildly contrived scenarios such as the stranded ferry passengers held naked against their will at a nudist colony in Smith's novel. From the same era is the play Barely Proper by Tom Cushing (1931), whose modern adaptation Disrobed has had many California productions in the past few years. The play humorously explores the dynamics of nudism when a "textile" marries into the family.
In mid- to late-twentieth-century fiction in the United States, nudity and its social ramifications are often explored in science fiction, such as Robert A. Heinlein's Stranger in a Strange Land (1961) and Philip José Farmer's To Your Scattered Bodies Go (1971), or historical fiction, like Piers Anthony's Tatham Mound (1991). Especially during the 60s and 70s, novels such as Heinlein's tended to link social nudity to social sex, a hippie ideal of the free love era. A mainstream 60s novel that portrayed a nudist community accurately is John Ball's Cool Cottontail (1966), featuring the same detective protagonist, Virgil Tibbs, as the earlier novel (and film) In the Heat of the Night (1965).
The emergence of a new genre
With the debut of the Internet in the late twentieth century and a new, efficient array of self-publishing opportunities including blogs, naturists from around the world not only had new ways of communicating among themselves but also of distributing their writings to a much greater audience. These writings were often works of fiction. One of the fiction pioneers of that time was T. H. Pine, whose titles were updated to Kindle format after his passing in 2019. Pine's breadth of genres (horror, romance, sci-fi, dystopia and more) is astounding, all the more for how he brings naturist elements into such disparate works. He has many short stories available online, as well as works such as his Father Al trilogy in which he colors naturism with Christianity.
Motivated by Pine as well as by the early 21st-century groundbreaking comic series Loxie & Zoot and The Bare Pit by Grace Crowley (formerly Stephen), a new generation of writers began to coalesce around the creation of an explicitly named category, "naturist fiction." Big-name New York City agents and publishing houses proved unwilling to market or sell several of these early works, so some of the authors embraced a niche that they themselves began to create through the "naturist fiction" label.
Three of these writers, P. Z. Walker, Robert Longpré, and Will Forest, run a site collectively (naturistfiction.org) where they define naturist fiction as "novels, novellas, or short stories, of most any genre, in which an integral aspect of the plot is the adaptation of one or more characters to social nudism in a context supportive of naturism." Forest's diverse novels Co-ed Naked Philosophy (2011), Aglow (2016) and Skinners (2021), Longpré's A Small Company of Pilgrims (2014) and its sequel It's Complicated (2017), and Walker's abundant output in series such as Naked Crow (started 2014), Mirror Earth (started 2015) and the Emma Nelson mysteries (started 2019) have laid much of the groundwork toward defining the category of naturist fiction as it currently exists.
Use of the word "naturist" to describe these works is a double-edged sword. It does help define and develop a niche readership, but it also has the potential to prove limiting or off-putting to non-naturists who might otherwise enjoy them. Nick Alimonos, for example, whose Aenya sci-fi series (started 2017) harkens back to the sort of wild adventures of Tarzan or Mowgli through his nude heroes Xandr and Thelana, resists the label "naturist fiction" as too narrow. Yet many other current writers, including the prolific Ted Bun, Michael Beyer, D.H. Jonathan, Wallace Greensage, Jacob M. Drake, Andrew Calow, and Martin Brant have, to some degree, engaged with the label and helped define it with their works.
One of the newest developments in naturist fiction is a series of anthologies in which many of the above writers have collaborated. Edited by Ted Bun and Will Forest, and with cover art by contributor and naturist graphic novelist Fabien Lutz-Barabé, the series began with Murder in the Nudist Colony(2020) and has been followed by Romance in the Nudist Colony(2021), Holiday in the Nudist Colony (2021) and the newly published Adventures Without Clothes (2023). With all proceeds going to Doctors Without Borders, the series has been successful not only in attracting new readers to the genre, but also in providing a venue for new and diverse voices, including Women in Nude Recreation leader Linda Weber and established writer Hannah Steenbock.
With new platforms such as Substack and Medium, some authors, including Longpré and a writer known as Shoes Socks, have taken to producing short stories or serialized fiction for those formats. Naturism in fiction has a larger and more focused presence than ever before, and it will no doubt continue to evolve with new reading technologies. 🪐
---
Planet Nude is a reader-supported publication. To receive new posts and support our work, consider becoming a free or paid subscriber.
---