Discover more from Planet Nude
A newsletter and podcast promoting body freedom and exploring nudity and nudism in history, culture, politics, and art.
Over 2,000 subscribers
The bohemian life of Zelda Suplee
A look at the maverick nudist-grandmother-turned-trans-advocate
Zelda Suplee was a writer, publisher, and occasional actor whose intelligence and fearlessness made her a powerful force for nudist advocacy and gender studies and education. She proudly represented both spheres publicly, appearing on television and in films, radio and print media over a career of advocacy that spanned more than forty years.
Born Zelda Roth in 1908 in New York City, Zelda spent her early years in New Jersey. After completing high school, she moved to Greenwich Village and started working as a researcher for Bernarr Macfadden, a controversial publishing tycoon best known for Physical Culture, a magazine on health and sexuality that was massively popular in the United States in the early 20th century.
Macfadden himself was an early proponent of nude exercise and many other ideas derived from Germany's budding Freikörperkultur, and by featuring occasional articles, Physical Culture helped to propagate the nudist idea in the United States in the 1920s. Zelda worked for Bernarr Macfadden for 17 years, editing multiple publications including True Story, True Detective and Mystery Detective Magazine.
According to one author, "[Macfadden] was clearly an influence on Zelda, who had already been exposed to unusual attitudes regarding health and sexuality by her mother's embrace of Christian Science and who rebelled against convention, herself, when she refused to marry the father of her child."1
Zelda did later marry a man named Walter Creutzman in 1937, and continued working for Macfadden throughout their marriage.
Nudist pioneer
Not long after her first divorce in 1946, Zelda married J. Reed Suplee, an engineer and former Quaker who owned Pennsylvania's popular nudist resort Sunny Rest Lodge.23
In her new role as co-owner and camp director, Zelda and Reed became fixtures in the national nudist movement, advocating publicly for the nudist lifestyle often. In 1948, they expanded their business, opening a second camp in Florida called Sunny Palms.
Beyond owning and operating nudist resorts, the couple was deeply involved in the national nudist associations, serving as editors for Sun Tan, the official journal of the American Sunbathing Association Eastern and Western regions.4 As "Woman's Editor", Zelda contributed the regular column, To the Ladies. Zelda would also deliver lectures and speeches in public as an open nudist, a very uncommon admission for anyone to make publicly in 1950.
"Sociable nudism gives the impression that these people have been there and back. They've got it made. There's no sickness of mind; this is the healthiest, most natural way for men and women, boys and girls to enjoy each other's company."
- Zelda Suplee, Nudism Today, Feb. 1965
A familiar face
In 1953, Zelda stepped (fully clothed) into the national spotlight when she appeared on the television show What's My Line? as a nudist camp owner, winning hearts within the non-nudist public. This appearance, alongside her ongoing activism, cemented her status as a public face of nudism.
Zelda's influence further expanded when she acted in the 1961 film Diary of a Nudist. Portraying herself in the film, she fulfilled an important role in the plot by ultimately helping the leading man and woman discover their love for one another. She would go on to act in more films in the 1960s.
Zelda and Reed Suplee divorced in 1961. As part of their settlement, Reed took Sunny Palms and moved to Florida to operate it. Zelda kept Sunny Rest Lodge and remained in Pennsylvania.
Over the years, Zelda became a sort of infamous presence at Sunny Rest, spending most of her time in an elevated office over the cafeteria, which had large glass windows allowing her to look over the club's main social area.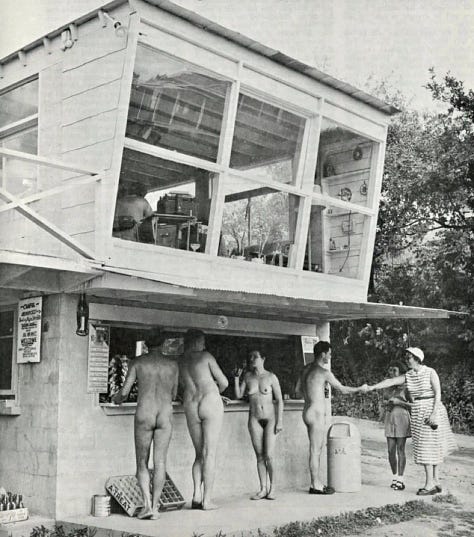 Zelda continued to infiltrate popular culture, reportedly becoming the first case of full frontal nudity in Playboy magazine in August 1963, when she appeared in a feature written by pop poet Shel Silverstein called Silverstein visits a nudist camp.
Transitioning career
Zelda's life took another turn in 1965 when she gave up her ownership in Sunny Rest and moved back to New York to begin working with Reed Erickson, a wealthy transgender philanthropist who was just establishing what would become the Erickson Educational Foundation (EEF).
As the General Manager of the foundation, Zelda became a strong advocate for transgender rights and education, even working to convince administrators at Johns Hopkins University to establish the first Gender Identity Clinic in the country. In 1969, she co-ordinated and participated in the First International Congress on Gender Identity in London.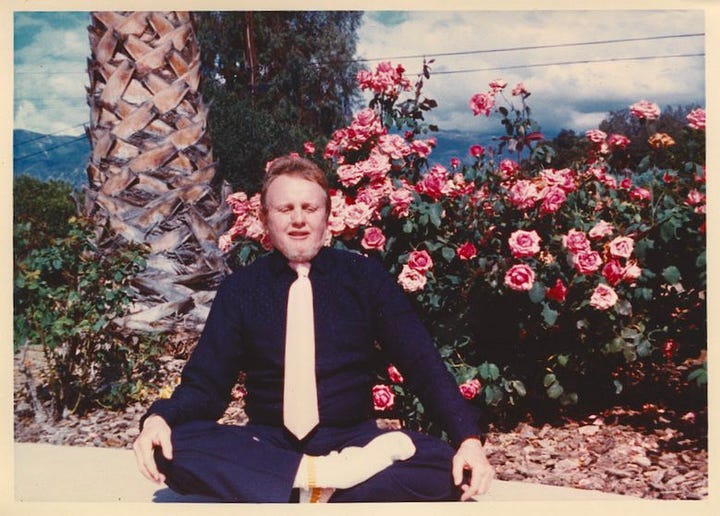 In the early 1970s, Zelda brokered an essential connection between well known sexologist Dr. Leo Wollman and her previous collaborator, cult film director Doris Wishman. This relationship culminated in the production of the 1971 pseudo-documentary film, 'Adam or Eve', which was later repackaged with extra footage as 'Let Me Die a Woman' in 1978. The film explored gender dysphoria, including interviews with trans individuals, as well as graphic surgical footage.
With a keen interest in psychic phenomena, Zelda fostered Erickson's engagement in such explorations. She remained the face EEF until its closure in 1977.5 In 1981, at the 7th International Gender Dysphoria Symposium, Zelda was presented with a lifetime achievement award.
In her later years, Zelda retired to Los Angeles, where she had built a circle of pseudo-celebrity friends. There, she further developed her interest in parapsychology and began studying and practicing hypnosis.
Zelda passed away in January 1989.
Zelda's legacy
Zelda Suplee is remembered for her advocacy for both nudism and trans rights. In a time of stifling conventions, she courageously stood for authenticity and acceptance. Her efforts to amplify underrepresented voices and dismantle societal norms broadened the public discourse around these topics, fostering incremental change that laid the groundwork for future advocacy. Decades after her passing, Zelda's bold spirit and unflinching dedication continue to inspire people to live their truth.
According to a letter written by Sister Mary Elizabeth to Lou Sullivan, transgender author and founder of FTM International, "her life was one of service to the gender-conflicted." Her legacy continues to inspire and guide the fight for gender rights and acceptance. 🪐
---
We hope you're enjoying
Planet Nude
.
Join the community. Go paid for just $5/mo.
---
More reading:
---
You might also enjoy
Naked Age: Transgender Woman Extraordinaire
1
"Zelda Yolande (Roth) Suplee (1908 - 1989)". Wikitree. https://www.wikitree.com/wiki/Roth-4358
2
J. Reed Suplee deserves an article himself for his impressive nudist career, which included a short term as president of the American Sunbathing Association in 1947. He also went on "What's My Line?" in 1951.
3
Reed Suplee was also recently divorced, from Jeanette Suplee, who was a pioneering nudist leader in her own right. She would go on to marry a man name Read Schumacher, and in 1979 the two would go on to establish the American Nudist Research Library in Kissimmee, Fl. Sometimes using the pseudonym Jayne Bernard, Jeanette Schuster wrote many article for nudist magazines over the years.
4
The organization is now known as the American Association for Nude Recreation (AANR), and its regional subsidiaries AANR East and AANR West. The regions sharing Sun Tan as their official journal was short lived. AANR West's current official journal The Western Sun has been in existence for over fifty years and today is distributed digitally.
5
"Zelda R. Suplee (1908 - 1989) Director of Erickson Educational Foundation." Jan. 2009. A Gender Variance Who's Who. https://zagria.blogspot.com/2009/01/zelda-r-suplee-1908-1989-director-of.html