Discover more from Planet Nude
A newsletter and podcast promoting body freedom and exploring nudity and nudism in history, culture, politics, and art.
Over 2,000 subscribers
This month's News of the Nude is full of stories from around the world, including India, Great Britain, Canada, California, and Catalonia. We have stories of legal wins for body freedom, and frightening examples of rights stripped bare. The summertime has brought events and opportunities for public nudity, and with that consternation and condemnation from moralistic reactionaries. We also look at nudist organizations through a PR lens, and examine what makes British Naturism so successful on that front.
There's plenty to uncover! Kick off your trousers and dive in.
As usual, let's start with some positive news… 🚀
---
King Charles lifts ban on nudists going naked on one of his beaches
In a promising development for naturists in England, King Charles has lifted the ban on nudity at one of his beaches in Fraisthorpe, East Yorkshire, a beach which, prior to the recently waived ban which was first instituted in 1994, was an official nudist beach for over 30 years. After three decades of struggle, this decision allows individuals to once again enjoy the beach in their natural state… sort of. According to the article linked above, "A new policy from the king said nudity was 'not expressly permitted' but also 'not prohibited'." At least, as my candy-fiending four year old would tell you, "maybe" is a preferably answer to "no".
While it is commendable that the ban has been overturned, we must recognize that the ability to be nude should not be dependent on the whims of a monarch. We can celebrate this victory as a step towards normalizing nudity and challenging societal taboos, while also advocating for a broader vision where the right to be nude is seen as an inherent and inalienable human right, protected by law and not subject to the discretion of a single individual or institution. 🚀
---
Nudist explains what you should definitely not do at a nude beach
I was so excited to learn about this recent appearance by nudist advocate Ronna Krozy on CNN, describing the do's and don't's of nude beach etiquette. As the chair of the PR Committee for the American Association of Nude Recreation, Ronna has been a personal friend and mentor to me. I am happy to see AANR engaging in proactive public relations and engaging with the media in this way, something that British Naturism excels at, as we will explore below. It's really important that our nudist organizations are not just reacting to bad press, but actively going after good press, representing naturists in a rational and sane way, and showing the world what we are really about.
In order to do this, naturist organizations need brave volunteers like Ronna Krozy to be willing to put their name and image out there in earnestness and honesty and say (in so many words), I do this, I love this, and I believe there's nothing wrong with it. 🚀
---
Say goodbye to Bodypainting Day, New York City's annual celebration of nudity and artistry
After over a decade of celebrating artistry and nudity in New York City, Bodypainting Day bids farewell. The annual event, where artists turned nude bodies into living works of art, will have its final edition in Manhattan's Union Square. Organizer Andy Golub, a renowned artist and free speech advocate, decided to move on and explore new ways of empowerment and unity. More than 50 people will be painted over four hours, celebrating the freedom of artistic nudity in the city. The event concludes with a march through Greenwich Village, a photo session in Washington Square Park, and a party in Brooklyn.
I'm truly saddened by this news. The event was a beautiful celebration of artistry and freedom, and it will be missed. Thank you to all the organizers and participants who made it such a memorable event over the years. 🚀
---
Daniella Hemsley barred from boxing final after viral breast-baring moment
Boxer Daniella Hemsley caused a stir when she exposed her breasts after winning a recent match. Her act of nudity was seen by some as a display of defiance and power, while others criticized it as inappropriate. The incident garnered significant attention, including rebuke from others in the sport. Following the event, Hemsley's following on social media and OnlyFans experienced a surge in numbers. It was reported a few days later that Hemsley had been barred from the boxing final over the move, but the boxer later clarified that she had not been banned, she was merely taking a personal break to recover from injuries sustained during the match.
The reaction from the boxing industry and online comments over this whole incident have been largely negative.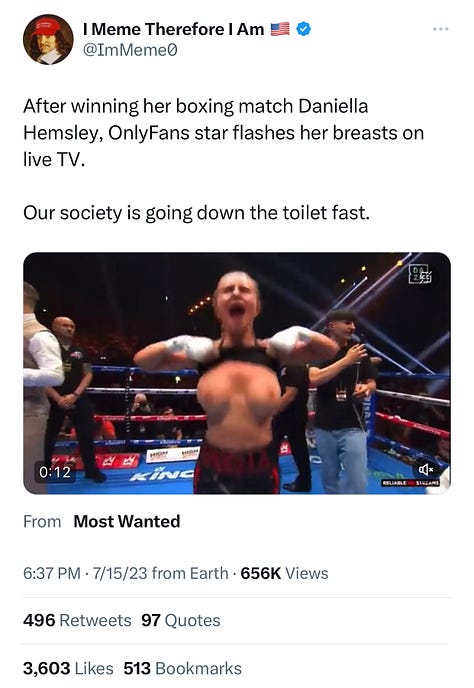 It is ironic that in a sport known for its violence, nudity can be deemed so offensive. This double standard reveals the underlying misogyny in the treatment of female athletes. Men often go shirtless in sports without controversy. There is a serious disparity in how male and female bodies are sexualized and policed. The media's labeling of Hemsley as an "OnlyFans boxer" further objectifies her and perpetuates a harmful narrative.
Kudos to Daniella for fearlessly embracing her power and defying expectations in the boxing world. Her unapologetic expression of self sends a powerful message of empowerment and challenges societal constraints. 🚀
---
Nudity and LGBTQ+ events face unrelenting moral panic
Okay, the hyperbolic headline directly above is mine. But as you'll see as you read through the next several stories, it's not exactly inaccurate. Along with summer events like the World Naked Bike Ride and Pride, this June and July has brought with it a new wave of sensationalized media reports imploring us to "think of the children!"
Wisconsin Supervisor Calls For Police Investigation After Child Participates In Madison's Adult Naked Bike Ride
This is a story to watch, as it has been consistently in the news for over a month, and seems to be escalating with each story. It began back in June, when a Dane County supervisor named Jeff Weigand called for an investigation after a naked girl participated in the World Naked Bike Ride in Madison. WNBR has been held annually for 13 years in Madison, and family participation is not uncommon.
"Our law enforcement officers need to investigate this matter and enforce our laws," Weigand said in a statement. "If a child was allowed to participate in this naked bike ride, any and all adults who supported and condoned this need to be arrested immediately."
To their credit, Madison police promptly investigated the complaint:
Madison police: No law broken in girl's participation in World Naked Bike Ride
A day after the original story broke, Madison police announced they had determined that no state or local law has been violated in the incident. The police's Special Victims Unit reviewed the case and stated that no applicable statutes were breached.
A spokesperson for the Madison police said detectives "looked at the state's statues on possession of child pornography and exposing a child to harmful material or narrations," but that "based on the image observed and city-sanctioned event status of the bike ride, it was determined at this time that neither statutes are applicable."
Okay, so no law broken. Apparently no victim looking to press charges. It seems like that should have settled the matter, but the story was soon back in the news when the county supervisor doubled down on his assertion that this form of public nudity "should be" illegal:
Wisconsin official fumes at naked climate change protest for allowing little girl to join: 'Enough is enough'
Speaking with Fox News, Weigand called for a closer investigation into the incident, saying (falsely), "If someone wants to do something without clothing on, and they're not violating other people's freedoms, then that's up to them… But when you take your nudity into the public square, you're actually violating my rights… and my children's rights to not want to see that. That's where it crosses the line." 
He then went on to suggest that participants in the World Naked Bike Ride are anti-God. "I think that anti-God people have taken it so far… The left has taken it so far, and especially when it comes to our children."
Of course, the media buzzards have been all over this story, which just one day later escalated even further:
Republican Reps Demand Probe Into 10-Year-Old's Participation In 'Naked Bike Ride'
On July 14th, Wisconsin Republican Representatives Tom Tiffany and Scott Fitzgerald issued a press release stating that they have written a letter to Attorney General Merrick Garland, urging him to investigate the alleged exploitation of a 10-year-old minor at a "Naked Bike Ride" event in Madison, Wisconsin. The lawmakers argue that indecent exposure is not protected speech and call for the DOJ and the FBI investigate the matter and pursue appropriate charges against those responsible for "endangering" the child. They also seek clarification on the legal remedies available to minors who are exploited by their parents.
Needless to say, this escalation of events is very concerning. Despite Madison police finding no violation of state laws and determining that no harm was done, the issue has gained momentum with calls for federal investigations and the arrest of those involved. I want to recognize and support the folks who organize the Madison Naked Bike Ride who are experiencing heightened scrutiny under this media frenzy. As we've written about before, attempts like these to create a political furor over a non-incident only serve to stigmatize and marginalize the naturist community.
This moral panic is not limited to this one event in Madison. As you'll see, the month of June saw multiple more media panics over similar nude events.
Nudity at Seattle Pride Sparks Outrage: 'Why Were They Not Arrested?'
Participants in Seattle's Pride 2023. Source: https://nypost.com/2023/06/27/megyn-kelly-blasts-open-penis-showing-at-pride-parades-with-kids/
Images of naked attendees at Seattle's LGBTQ+ Pride parade also recently sparked outrage online, more calls for arrests. Despite the outrage, the Seattle Police Department has said they received no official complaints about the nudity and had no arrests, as their role was to ensure safety and security rather than regulate behavior.
With summer setting in and an influx of Pride and Naked Bike Ride events naturally occurring across the country, a heightened climate of groomer panic has made this June a particularly hostile one toward instances of public nudity. Many of these moral panics conflate public nudity with the LGBTQ+ community, which underscores how much of the criticism and adversity that nudists are facing even over events that have been held for many years without issues is an extension of this surge of homophobia in our political and social discourse. Nudists are under attack from the very same people that are attacking Bud Light and Target for featuring products that support the LGBTQ+ community. For proof of this connection, look no further than this next headline:
Bud Light sponsors Toronto Pride parade attended by naked men, children
Nudist members of the Federation of Canadian Naturists appear in the news after being photographed at the Toronto Pride Parade. Image Source: https://twitter.com/tpostmillennial/status/1672799980849905664?s=46&t=0gDriqbKytMd7Sb1D9hDpg
Another similar controversy arose at Toronto's Pride parade, when some expressed outrage over photographs and video that surfaced depicting public nudity where children were present. Among the photographs that sparked the controversy included one of members of the Canadian Naturist Federation (FCN), an internationally recognized naturist group that has been prominent in Canada since 1986.
Just like with the stories above, most of the media around this incident is framed for maximum shock value, taking a moralistic stance against nudity and exhibiting biases against the LGBTQ+ community. By framing this particular story around the Toronto Pride event's sponsorship by Bud Light, the New York Post intentionally ties it to a pre-existing controversy surrounding that company's recent sponsorship of trans activist Dylan Mulvaney and the performative boycott that ensued as a result. This attempt to conflate two unrelated controversies undermines the rights of nudists and the LGBTQ+ community, diverting attention from the celebration of diversity, inclusion, and self-expression that Pride events aim to foster. All of these media panics employ the "think of the children" rhetorical technique of whipping up outrage over what each of these cities' police have deemed victimless events in which no actual harm occurred against children or anyone else. It all fuels a heightened climate of hostility that poses a serious danger to nudists and LGBTQ+ folks alike.
Many have warned that eventually, this billowing fire of fury and fear, repeatedly doused with gasoline by incendiary tabloid reports, has the potential to inspire actual violence. Surely, that can't happen to nudists, can it? Unfortunately, it already has:
Naked cyclists attacked in alleged hate crime in Oregon
In a disturbing incident, nine naked cyclists participating in the Buck Moon Naked ride in Portland, Oregon, were targeted in an alleged hate crime. The assailant, Robert E. Houchins, attacked two cyclists with a metal pipe while hurling homophobic slurs. The severity of the victims' injuries is currently unknown, but one of them identifies as gay. Houchins was swiftly apprehended by the police, who found the pipe in his possession. He now faces charges of second-degree assault, unlawful use of a weapon, and a hate crime.
Shockingly, comments on news coverage of the incident on YouTube showed support for the assailant, with some individuals advocating for further harm to the cyclists.
These stories have only contributed to a dangerous climate of hostility and stigmatization. These media-fabricated moral panics conflate public nudity with the LGBTQ+ community, exacerbating homophobia and marginalizing naturists. The escalation of events, including calls for investigations and arrests, underscores the need to support and protect the rights of both nudists and the LGBTQ+ community, and for nudists and naturists not to get quieter to avoid scrutiny, but to get louder and to show the world that there is nothing wrong with simple human nudity and the celebration of the human body. 🚀
Related:
---
We hope you're enjoying
Planet Nude
. 🪐
Join the community. Go paid for just $5/mo.
---
Nudists Beware: Great White Sharks Spotted at Famed Beach
Three young great white sharks were spotted at Black's Beach in San Diego, a popular spot for surfers and nudists. The sharks, between 6 and 9 feet long, were seen feeding on a sea lion carcass. While they did not display aggressive behavior towards humans, caution is advised according to the San Diego Fire-Rescue Department.
What this article does not go into (but which I am privy to as a southern California resident) is the likely reason these sharks were seen feasting on the carcass of a marine mammal, is because of a toxic algae bloom that is currently wiping out animals all along the southern and central California coast, as reported here by NBC news:
This environmental crisis has already "killed or sickened more than 1,000 marine mammals last month", according to the National Oceanic and Atmospheric Administration. Southern California residents are currently being warned against swimming at over 50% of Los Angeles area beaches.
According to the EPA, algal blooms occur naturally, but have become much more common in recent years, some due to human activities that put excess nutrients into the water. Furthermore, warmer water due to climate change might favor harmful algae in a number of ways. As I've written here before, global warming presents a grave threat to nude recreation—indeed, all recreation. The risks include wildfires, severe droughts, toxic algae, leaving us all vulnerable to its many consequences… if the sharks don't get us first.
I myself saw at least two dead sea mammals (and several dead sea birds) just a few weeks ago at Bate's Beach when I was there to celebrate International Skinny Dip Day.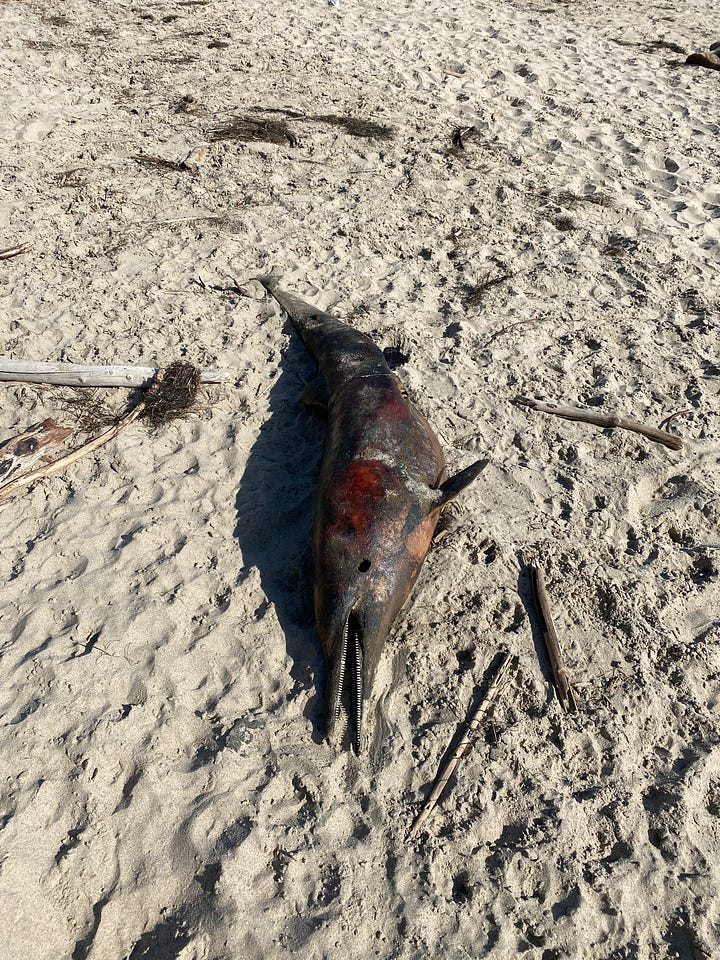 As you might expect, due to this crisis, the California Wildlife Center is struggling to keep up with the work of rescuing many of these endangered animals. The center is over budget and struggling to meet the increased demand for food and care. Urgent support is needed to ensure the rescue and treatment of affected animals. Please consider making a donation or sponsoring an animal to help them out. I did. 🚀
Related:
---
British Naturism in the news
'Every writer's deepest fear': what happened when I gave a book talk completely nude
Andrew Welch and Nell Frizzell at Nudefest 2023. Photo by Mark Bass/British Naturism
Author Nell Frizzell recounts her experience giving a book talk completely nude at the UK's largest naturist festival, Nudefest. Initially apprehensive, she found the audience to be warm and receptive, feeling connected and comfortable. While body consciousness did arise during the talk, overall, the focus remained on discussing her books rather than her nudity. Frizzell reflects on the experience and the chapter in her new book about our relationship with size, weight, and being viewed in public.
Nudefest 2023 recently wrapped up, and by all accounts I've seen it was a huge success for British Naturism, with massive attendance and all varieties of positive press. British Naturism really has mastered the art of public relations in recent years, and this is an excellent example of the organization excelling at proactive PR. However, they're also adept at being reactive, when necessary. And sometimes it is necessary.
The visibility of Helen Berriman
For further evidence of British Naturism's excellence at proactive PR, I will point to one of their passionate public advocates, Helen Berriman. We wrote about Helen in last month's News of the Nude after she appeared on Good Morning Britain in her birthday suit to advocate for naturism. Helen and her husband Simon have been all over the media in the last month, with literally over a dozen different international media outlets and tabloids running various stories about them over the last month.
Here's just a small sampling of some of those headlines just from the last 30 days:
'I thought nudism was odd but now go on naked cruises – nobody looks at your boobs'

(Daily Star, July 19, 2023

)

I went on a nude cruise with 2,300 strangers — it cured my body image issues (New York Post, July 12, 2023

)

I went on a naked cruise with 2,300 strangers – people say I'm mad & I'll admit it, eating tea starkers was eye-opening (

The Sun, July 10, 2023

)

I love going for walks naked – posties wave and people are friendly… I don't care about people sunbathing nude either (

The Sun, June 26, 2023

)

My husband and I go on naked walks and it's invigorating — even the mailman waves hello (New York Post, June 28, 2023)
While this press isn't always necessarily framed in a positive light, and many of the tabloids sharing the stories frame the articles for maximum shock value, each of these stories revolves around Helen and Simon and their naturism, and usually feature a mix of comments with many expressing support for the couple and naturism. I do not know the details of their method attracting this press, but I suspect it is at least in some part the result of organized and crafty PR efforts on the part of the Berrimans and their naturist federation.
Our quiet village is being invaded by hundreds of naked tourists… we're scared of bumping into them
Residents in the quiet village of Langport, Somerset, are expressing their discomfort as hundreds of naked tourists invade their hometown for the UK's biggest nudist festival, Nudefest, according to this article in British tabloid The Sun. Nudefest takes place at Thorney Lakes Caravan and Camping Park, apparently causing some residents to feel uneasy about the influx of nudists in their community.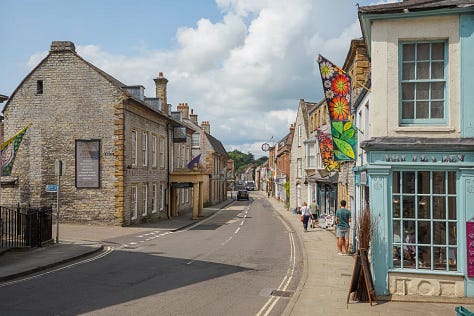 Public nudity without a sexual context is perfectly legal in England, and while opinions vary among residents, the festival organizers (British Naturism) emphasize the benefits of nudism and the community spirit it fosters. 🚀
---
Raipur: 29 men held for nude protest near Vidhan Sabha
Around 20 youth, holding placards, ran naked towards the state assembly building. Source: http://timesofindia.indiatimes.com/articleshow/101854360.cms
29 men were arrested in Raipur for protesting nude, demanding action against government employees with alleged fake caste certificates for job recruitment. The protesters aimed to draw attention to the state government's inaction on the issue.
The use of nudity in their protests could be seen as a provocative tactic to gain attention and emphasize the urgency and seriousness of their demands. Nudity is common in protests because it can successfully capture public and media attention, but I believe its impact as a statement is most effective when there is some discernible symbolic meaning. While the case of the recent nude protest in Raipur certainly drew attention, the symbolism behind the act in this particular protest is not readily apparent. 🚀
Update:
Just as I was going to press publish on this post this morning, I discovered another report suggesting that the above image which came from a video screenshot is not actually the protestors referenced in this story. I don't know what's true and don't have much time to appropriately research these sources, so instead, here's a link to the fact-checking story… I'll let you be the judge. 🚀
Related:
---
No bikini, no problem – Palm Springs is home to 16 clothing-optional resorts
Desert Sun Resort
Palm Springs, located in Southern California, is home to over a dozen clothing-optional resorts. The desert climate and mountainous surroundings provide a suitable environment for nude walking and privacy. Visitors can choose from a variety of resorts catering to different lifestyles and preferences. While some resorts have closed in recent years, many remain open, offering amenities such as pools, hot tubs, restaurants, and spas.
I had no idea there were so many clothing-optional spaces in Palm Springs, which is close enough to me to make a day trip possible. However, clearly not all of these resorts—some of which have names like "Exotic Dreams Resort Hotel" and openly cater to the swinger lifestyle—are family-friendly naturist resorts. If you're a naturist planning a Palm Springs trip after stumbling on this article, researching each resort beforehand is definitely recommended. 🚀
---
Are your clothes making you sick? The opaque world of chemicals in fashion
The article raises concerns about the presence of harmful chemicals in the fashion industry and their potential impact on human health. It discusses cases of individuals experiencing adverse health effects from wearing garments containing toxic substances such as BPA, PFAS, and phthalates. The author highlights cases where individuals, including flight attendants, have experienced adverse health effects from wearing garments containing toxic chemicals. The lack of regulations and transparency in the industry is highlighted, along with the need for stricter regulations, mandatory ingredient labeling, and increased research to protect consumers.
While the article sheds light on the alarming presence of toxic chemicals in the fashion industry, it also prompts us to question the impact of clothing on our health. As nudists, we advocate for embracing the freedom of living without clothes, which eliminates the direct contact with potentially harmful substances found in garments. Nudism offers an alternative lifestyle that minimizes the risks associated with toxic fashion. However, this discussion should not solely focus on the absence of clothing, but also emphasize the importance of conscious consumption and sustainable practices. We support a shift towards ethical and environmentally friendly clothing options that prioritize transparency, natural materials, and responsible manufacturing processes.
Related:
---
Spanish 'Free Nipples' activists celebrate as public swimming pools are ordered to allow women to go topless
Public swimming pools in Catalonia, Spain, have been ordered to allow women to go topless, in celebration of the 'Free Nipples' activists' efforts. The 2020 Catalan equality law permits women to be topless at public pools, and local authorities can be fined up to £430,000 for not complying. Despite the law, some authorities still banned topless swimming for women, leading to complaints from the feminist group Mugrons Lliures (Free Nipples). The Catalan government's department of equality and feminism has now sent a letter to town and city halls as a 'reminder' of the compulsory law. The campaign aims to combat discrimination and promote gender equality, challenging double standards and the sexualization of women's bodies.
A step in the right direction for Catalonia. 🚀
---
The 'naked' warrior who helped British capture India
A member of the Naga sect in a painting from a 19th Century manuscript describing religious sects in India
Anupgiri Gosain, a revered Naga sadhu and ascetic devoted to the Hindu god Shiva, played a significant role as a warrior ascetic in 18th-century India. Known for leading a disciplined and well-armed army of naked warriors, Gosain commanded thousands of men and was renowned for his military prowess. Despite fighting on various sides of different battles, he eventually joined forces with the British and played a crucial role in their capture of Delhi, which solidified the East India Company's dominance in southern Asia. Anupgiri's complex and enigmatic character, as well as his ability to navigate shifting allegiances, earned him a reputation as a "military entrepreneur" and a figure of both fear and respect.
Outside of the fact that these ascetics were naked, this story really has nothing to do with nudity or nudism, but it came up in my google alerts and caught my attention. It's intriguing to see how individuals like Anupgiri wielded power and influenced major events, ultimately contributing to the rise of British dominance. The concept of armed ascetics conjures up a world where personal freedoms and the ability to conquer death were intertwined. Was his nudity a part of his ability to navigate complex alliances and wield power in a world teetering on the edge of transformation? Was it emblematic of his personal quest for immortality? I don't know, but I appreciate that it was a thought provoking read. 🚀
---
World's best nudist beach branded 'a paradise' but gets raided by police
Bolonia beach
Bolonia beach in Tarifa, Spain, has been named the best nudist beach in the world by Globehunters and was also awarded the title of the country's best beach in 2023 by Traveler magazine. The beach offers stunning views, golden sand, crystal clear waters, and a natural dune, along with its proximity to the Archaeological Ensemble of Baelo Claudia. While nudism is practiced in certain areas of the beach, it is not entirely a nudist beach. However, the beach recently made headlines when the police had to evict a hippie commune called the "Rainbow Family" that had set up camp in the area, posing safety concerns and violating the rules of the private estate where the beach is located.
As usual, I find myself siding with the hippies in this story over the police. Who can blame a group called "Rainbow Family" for wanting to live on the world's best nudist beach? Live and let live. 😂
---
I Started A Nudist Magazine. I Didn't Expect How Badly I'd Be Treated Because Of It.
Phillip Miner and other members of Natural Pursuits celebrate World Naked Gardening Day. Source: https://www.naturalpursuitsmagazine.com/blog/world-naked-gardening-day
Phillip Miner recounts his journey in creating a nudist art magazine called Natural Pursuits" Initially inspired by World Naked Gardening Day, he organized a nudist party with queer artist friends to create content. Despite his initial enthusiasm, selling the first print issue proved challenging due to the magazine's full-frontal nudity, making marketing on platforms like Instagram and Facebook impossible. Undeterred, Phillip transformed the project into an online magazine, paying queer artists for their work and fostering a growing community.
His optimism was soon met with a stark reality when payment processors flagged the magazine's content as violating their policies. Phillip faced rejection from multiple processors before finding one willing to work with him, but at a higher cost. This struggle echoes the historic pattern of nudists and artists facing censorship and societal resistance for depicting nudity in their work.
Despite these obstacles, Natural Pursuits stands as a powerful space for body acceptance and queer joy. I've been following that group for a while and was happy to see the recent recognition in Huffington Post. 🚀
You can subscribe to Natural Pursuits here.
---
Tan-through swimwear makes a splash in France
A French couple, Luc and Alexandra, have introduced the Bikunu swimwear collection, claiming to be the first ever tan-through swimwear. They sell includes boardshorts and bikinis, which have found popularity among naturists seeking an all-over tan without being fully nude. The couple discovered a UV-filtering material that allows tanning while providing some sun protection. The swimwear, manufactured in Germany and sewn in France, starts at €90 for boardshorts and €120 for bikinis.
Personally, I am quite proud of my allover tan and would never opt to wear trunks if I don't have to, but sadly situations often arise where nudity is not appropriate. I would probably appreciate these shorts, if they really do what they purport to do. 🚀
---
Well, that's it for this month's News of the Nude. As you can see this month saw a mix of progress and regress in the world of social nudity and nude expression. There has been celebration and joy, and there has been hostility and backlash. Sometimes it feels like one step forward, two steps back. Nobody gets too far like that. But progress is slow and steady, and like the tortoise, that's what wins the race. 🪐
---
We hope you're enjoying
Planet Nude
. 🪐
Join the community. Go paid for just $5/mo.