Discover more from Planet Nude
A newsletter and podcast promoting body freedom and exploring nudity and nudism in history, culture, politics, and art.
Over 2,000 subscribers
News of the Nude, no. 5
Women dominate this veritable compendium of nude-ish news from the merry month of May
I can't believe it has already been four weeks since the last News of the Nude, and yet here we are.
Luckily, there are so many nude-adjacent headlines that have crossed my path in the last month, I'm happy to say there's no shortage of topics to discuss, covering a range of everything from naturism in the media to nude comedy shows, nudity in art, nudity in protests and bike rides, and nudity in cases of censorship and discrimination.
There are a few themes which emerge when you view these stories together. Many feature nudity as a path to empowerment. We see nudity represented with power and pride in popular culture and in activism.
Notably, many of this month's stories feature women. Whether it's women who are finding strength in their bodies in nature, or through performance and art and other forms of expression, somehow, women are all over this month.
And I'm here for it. For sure.
Let's do this. 🚀
---
Mexico's first 'Naked Day' march leaps forward to normalise nudity
The second1 ever Dia Al Desnudo took place in Mexico City, with at least 200 people participating in the urban nude March with the message of normalizing nudity and promoting body acceptance. For its sophomore year, the event is taking place in two cities, in Mexico City (on May 20th) and Guadalajara (May 27th). Local police provided support throughout both events. Organizers have ambitions of it growing to more cities in Mexico and beyond.
I'm so happy to see this event receiving international media coverage. The recognition it is receiving is well-deserved, considering the tireless work that has gone into organizing Dia Al Desnudo. We have previously reported here on Planet Nude about this event and the efforts put forth by its founder, Hector Martínez. I also spoke with Hector for the New Nudist Podcast, which you can listen to below. 🚀
---
In case you missed it:
---
Naked nation: Why are we all so obsessed with being nude?
This article delves into the increasing popularity and acceptance of naturism in the UK, presenting a broad range of perspectives from individuals who incorporate nudity into their lifestyles in a variety of contexts. It explores the journey of a couple who embraced naturism as a way of life, an actor who uses nudity to provoke vulnerability in his performances, and a survivalist who experienced the extreme challenges and unexpected benefits of being nude in a reality TV show. The article spotlights the growing participation in naturist activities and events, boosted by organizations like British Naturism, and addresses societal norms and practical hurdles surrounding public nudity.
As a commentary on the state of naturism, particularly in the UK, this article is really well done. It not only illuminates the various facets of the naturist experience but also normalizes and humanizes it, providing a balanced view of the lifestyle's benefits and challenges. It's particularly exciting to see British naturism currently undergoing what seems to be a nudist renaissance, giving us here in America and elsewhere some goals to aspire to. 🚀
---
The World Naked Bike Ride returns to Toronto this spring
The season for naked bike rides is here! (At least in the northern hemisphere). Articles about these events are popping up everywhere, and rides are planned all around the world this summer, with thousands of nude riders expected to take to the streets in cities such as London, Toronto, Los Angeles, Chicago, and many more. 🚀
---
In case you missed it:
---
I stripped myself of clothes and shame. Then – on stage – I started to dance | Kris Kneen
In this personal essay, author Kris Kneen chronicles her experiences as a fat woman, challenging societal assumptions about fat bodies, and highlighting her journey of self-acceptance and liberation through burlesque. The author wrote about her personal journey further in her book, Fat Girl Dancing. I thought this article was a powerful endorsement of body positivity and self-acceptance, two themes which modern burlesque shares with naturism. I guess I'll have to check out the book. 🚀
You too?
Fat Girl Dancing
can be purchased
here
.
---
Puritanism took over online fandom — and then came for the rest of the internet
The internet has become a puritanical battleground, driven by anti-sex advocates, the purity movement, and moral panic. Social media platforms are filled with outspoken individuals who condemn a wide range of sexual content, labeling it as gross, oversexualized, and even accusing such works of promoting pedophilia and viewing their consumers as potential predators. This culture of zealotry has infiltrated online fandom, leading to the rise of "antis" who oppose sexual content in media and harass those who enjoy it. The trend has resulted in the sanitization of sex-positive communities and the erasure of their voices, pushing them underground. This puritanical culture extends beyond online spaces, intersecting with broader media illiteracy and fueling a moral panic that affects societal attitudes towards sex. The article highlights the dangers of a puritanical mindset within online communities and its impact on discussions surrounding sex. The rise of "antis" in fandom.
As Planet Nude contributor
said when he shared this article on Twitter this week, "It does not mention recreational or artistic nudity but it's not hard to see where those fit into this narrative." Intolerance towards sexual content parallels the challenges faced by nudist communities and their efforts to embrace body positivity and normalize nudity. As "antis" demonize and harass those who engage in sexual expression, nudists are absolutely a target for this kind of misunderstanding and moral panic. The whole point of this article is that this moral panic is not limited to online fandom, it is a growing and expanding blob that is coming for other subcultures as well,
which is something we have written about here recently.
This broader cultural shift towards regressive attitudes and censorship threatens both sex-positive communities and nudist culture, making it increasingly difficult to foster open and healthy discussions about sex and nudity online. 🚀
---
In case you missed it:
---
Naked Stand-Up Comedy: Everything You Imagine, but Oh So Much More
The "Naked Comedy Show," hosted in a basement in Bushwick, Brooklyn, has been selling out, attracting a mixed crowd of nudists and comedy lovers alike. The brainchild of comic and producer Billy Procida, the show's format has stand-up comedians delivering their sets entirely in the nude. The show, which seeks to challenge norms and push boundaries, represents the epitome of vulnerability, according to comedian Carolyn Bergier. Along with comedy, the showcase promotes body positivity, diversity, and acceptance, attracting a wide range of comics and audiences. Procida said the success of the show comes from offering an event where people can remove their clothes for a couple of hours. Interestingly, despite the nudity, the event is surprisingly asexual, with an unexpectedly wholesome and comedic atmosphere.
More and more of these nude comedy shows have sprung up in recent years. Some naturist parks such as Bare Oaks have experimented with them on their recreational calendars, as the park's owner
described i
n one episode of his
Naturist Living Show
podcast
. In my neck of the woods there is
Nude Comedy LA
, a show which asks the audience to go nude as well as the comedians, and has been hosting semi-regular shows in Los Angeles since at least 2016 (as far as I can tell). They've been sponsored by the
Southern California Naturist Association
, which is also producing the upcoming stage production of
Disrobed
at Hollywood Fringe Festival in June
.
I have not yet personally experienced this kind of social nudity, in a theater setting in the middle of a city, but I already have my tickets to Disrobed next week. I'm looking forward to it. 🚀
---
We hope you're enjoying
Planet Nude
.
If so, consider a paid subscription.
Your membership supports our work and comes with exclusive content.
Sign up right now and get 20% off:
---
Huntington Beach considering amending its public nudity policies
The city council of Huntington Beach is contemplating expanding its public conduct code to include more specific regulations regarding public nudity. This comes despite an existing law already covering public nudity. The proposal suggests it will be illegal for anyone above the age of nine to expose certain body parts in public, with the sole exception being breastfeeding. Violators could face fines ranging from $125 to $600 and potentially a misdemeanor criminal charge for repeated offenses. The council is set to discuss this amendment further at a future meeting.
This proposed amendment feels disproportionate, particularly when the current regulations are already established. The article doesn't cite any evidence that nudity on Huntington Beach is a major problem necessitating this level of legislative revision. It's concerning to see legislation being updated without clear justification or transparent data supporting the need for such changes. If residents disagree with this proposed amendment, they should consider voicing their objections through public comment during city council meetings, contacting their city council representatives directly, or even organizing peaceful demonstrations. In a democratic society, it's important for legislation to reflect the will and needs of the people, and that requires active participation in the process. 🚀
---
Janelle Monáe Is in Her 'Titties Out' Era
The multi-talented Janelle Monáe broke the internet this month when she embraced a moment of fearless expression at a concert, flashing her breasts to an exhilarated crowd. This viral moment comes on the cusp of her soon-to-be-released album, "The Age of Pleasure," marked by the nudity-laden Lipstick Lover music video. She then appeared topless on the cover of Rolling Stone this month, ushering in what at least one critic has termed Monáe's 'titties out' era.
Monáe's bold approach is not an isolated event; it's a part of a larger pattern of pop stars, particularly women, using nudity to reclaim their bodies from the restrictive norms of a highly sexualized industry. It's also a potent strategy to navigate a career image shift, a trick practically as old as pop music itself.
Dating back decades, one can point to iconic singer Grace Jones, whose 1981 album "Nightclubbing" features the artist nude, embodying a stark androgynous look. Or consider Madonna's "Sex" book and "Erotica" album in the early '90s, where she turned expectations on their heads, owning her sexual agency in a way few women had done before (or since) in mainstream pop. Ten years ago, Miley Cyrus employed nudity and provocative imagery to shed her Disney persona during her "Bangerz" era. More recently, Lizzo has frequently used nudity to express her confidence and power, and Britney Spears has proclaimed her newfound freedom from a conservancy with a series of stir-causing nudes on Instagram.
On the other hand, there are instances where women artists feel pressured to fit into an industry mold that encourages and rewards provocative behavior and display of their bodies in order to gain recognition. This is really made clear when you look at music videos, and the disparity between award winners at the MTV Video Music Awards over previous years. A 2015 examination of past winners of Best Video revealed a stark pattern: Winning female artists often appear scantily clad or nude in their videos, a trope not shared with their male counterparts. In fact, from 2000 to 2015, six out of nine winning female artists appeared in some form of undress in their videos, while the winning male artists, despite a few brief shirtless appearances, were largely fully clothed. Moreover, male winners frequently showcased scantily clad women in their videos, further emphasizing the disparity in representation.2 This stark contrast illustrates how the music industry perpetuates a double standard, valuing female performers more for their physical allure than their artistic contribution. This has fostered a culture where female artists often resort to sexualization to achieve success in an industry that does not apply the same rules to male artists.
Nudity is a symbol for freedom. This is why the move by artists like Janelle Monáe can be seen as both rebellious and empowering. It's a choice to redefine the narrative, to challenge the industry's norms and biases, and to assert their identity on their own terms, all while making a statement about the uneven terrain that female artists are often expected to navigate. The 'titties out' era isn't just about nudity for shock value; it's about the subversion of societal expectations, the reclamation of autonomy over one's body, and the celebration of self-expression. 🚀
---
Florida woman sues gay and bi men's nudist resort for not letting her book a room
A Florida woman, Amina Chaudhry, has recently filed a lawsuit against Island House, a Key West nudist resort for gay and bisexual men. She alleges the resort's all-male policy, which denied her request to book a room, is discriminatory.
This situation brings to the fore a challenging issue in the nudist community: the tension between creating inclusive spaces and providing safe environments for specific groups. Many traditional nudist spaces enforce policies such as "no single males" to ensure gender balance, inadvertently excluding certain demographics. In contrast, Island House has created a haven for a group — gay and bisexual men — who might feel excluded elsewhere. However, this protectionist approach has come under fire for potential gender discrimination.
If successful, Chaudhry's lawsuit may set a precedent of which nudist resorts may want to take heed. It calls into question the balance between inclusivity and the need for protected spaces within the nudist community. While it's essential to respect the unique needs and rights of different groups, any policy should also avoid reinforcing exclusionary behavior. Resorts may want to revisit their policies and perhaps innovate new ways to ensure inclusivity without sacrificing the comfort and safety of their patrons.
Overall, this lawsuit demonstrates how nudism, as a lifestyle and a philosophy, intersects with broader societal conversations about discrimination and inclusion. As we navigate these complex issues, it's vital to continue promoting the values of body positivity, acceptance, and respect for diversity that are at the heart of nudism. 🚀
---
Why this Maine woman hikes naked
Laura Casey, a Maine resident, combats societal norms by hiking naked, using this unique practice as a means to celebrate her body scarred by various surgeries. Originally introduced to the idea during her time in the U.S. Navy in Italy, she and her husband Adam now continue this liberating tradition back home, frequently accompanied by their five dogs. Despite her ongoing health battles, including cancer and endometriosis, Casey embraces this empowering activity as a defiant tribute to her resilience and body positivity.
This story beautifully elucidates the transformative power of nudity as a tool for self-acceptance, as well as its natural complementarity with outdoor exercise. Naked hiking, often misconstrued, can be a grounding, even meditative experience, encouraging a deeper connection with nature and one's own body. Laura Casey's journey epitomizes this perspective, offering a poignant reminder that our bodies are not something to be ashamed of but are rather an essential part of our identity and existence to be embraced. 🚀
---
Related to
nude hiking
:
---
'How long have I been sitting here naked?': the woozy, not-dreadful experience of being a life model
The article narrates a woman's experience posing nude for an artist at Sydney's The Other Art Fair. Filled with initial apprehension, she eventually finds comfort and affirmation in the experience, contributing another positive narrative about nudity. This engaging story emphasizes the importance of body positivity, consent, and the liberating potential of such experiences. It's a nice story, and it draws a few noticeable parallels to a story we shared this week by
about their personal experiences in nude figure modeling.
I am admittedly in a bit of a bubble (I'm always on the lookout for stories pertaining to nudity) so it's possible I'm seeing something that's not there, but it seems like I keep finding more and more stories like this; first person accounts of someone who dove into some bold nude experience and came out feeling more confident about themselves in some way. Hell, there are ate least five of them just in this month's News of the Nude alone, from publishers like The Guardian, Salon, Vice, and others. In fact, just this week I stumbled on an article about a woman who had a body positive experience in a Korean spa, which I didn't even include because I already have another one about a woman having a body positive experience in a Korean spa in this roundup. This apparent trend might reflect society's shifting attitudes towards nudity, challenging taboos and celebrating body positivity. It could also be indicative of a broader cultural shift towards authentic, vulnerable storytelling, encouraging acceptance and self-love. Or maybe it's nothing. It's hard to say. What do you think? 🚀
---
In case you missed it:
---
Nude Beach Ranked Among NJ's Best Secret Beaches
Three New Jersey beaches have secured spots on the Family Destinations Guide's list of the "100 secret beaches" in the U.S., with Gunnison Beach, the state's only nudist beach, being among them. Sedge Island and Pearl Beach are the other two Jersey Shore beaches named. Gunnison Beach, located in Sandy Hook, not only made the cut at number 65, but it was also previously recognized as one of the top skinny-dipping spots worldwide.
This recognition is a positive nod towards the nudist community and should help attract more visitors to Gunnison, thereby promoting the acceptance of nude recreation. However, I take some issue with the notion implied by the above article that the beach may not be child-friendly. While Gunnison's clothing optional environment might not align with everyone's comfort levels, many families do choose to enjoy their time there. The portrayal of the beach as potentially unfit for children is a skewed representation, reinforcing a negative stereotype about naturism that is not accurate or fair.
Proof that the above article's framing could be improved came (to me) a couple of days after I first spotted this headline, with another inexplicably old-timey headline about the same story over on Gothamist:
Now that's how this story should be reported.
Bad writing aside, the news itself is a net positive. 🚀
---
"It has graphic nudity and it is PG-13?": Wes Anderson fans confused as Asteroid City gets PG-13 rating
Wes Anderson's forthcoming film, "Asteroid City," recently saw its classification revised from an R rating to PG-13 by the Motion Picture Association of America (MPAA), inciting a wave of bewilderment among fans. The film's distributor, Focus Features, had sought this change despite the MPAA's original R rating, owing to "brief graphic nudity". Notably, even after the alteration, the MPAA's assessment continues to highlight elements of graphic nudity, smoking, and suggestive material in the film.
The rating transition has sparked a substantial public response, with fans taking to platforms like Twitter to voice their perplexity. A prevailing question is how the film succeeded in acquiring a milder rating without modifying the content that originally warranted the R classification. A portion of the film's trailer, involving a conversation about a "nude scene," is suspected to be the rationale for the preliminary rating, despite the scene remaining unaltered in the film.
I'm a fan of Wes Anderson's work, which is consistently nuanced and brilliantly creative, particularly at grounding highly stylized and colorful worlds in real human relationships and drama. Sometimes his films do feature brief nudity, but in my opinion it is always handled with class. I find it very hard to believe that his new film features "graphic" nudity, as described in the MPAA assessment. Clearly the issue is not with nudity, but with misleading and often overly broad language that the MPAA uses to skirt transparency and accountability.
Setting aside my own opinions that basic nudity should never be the cause of an R rating, all this uproar and confusion over the MPAA's rating system underscores a broader point I would like to make about the MPAA itself: it's trash. Their rating system is famously opaque, often employing ambiguous terms like "suggestive material" which can mean just about anything. The ratings are inconsistent, and have been shown in studies to exhibit inherent biases. The system is also oddly prudish about sex and nudity while turning a blind eye to violence. It's clear that the MPAA's ratings are more of a lottery than a well-defined process. These issues underscore the need for a more transparent, equitable, and modern rating system. 🚀
---
Getting naked with strangers helped me combat body shaming culture
Salon deserves recognition for publishing Avni Shah's account of her journey through body shaming culture towards body positivity. Shah's exploration of naturism as a path to self-acceptance is insightful and candid. Her experience at a women-only Korean spa offers a personal and compelling narrative that reveals the potential of shared naturist experiences to combat societal pressures related to body image. Her story emphasizes the importance of normalizing nudity, helping to mitigate the stigmatization often associated with diverse body types.
Shah's article presents an important message about naturism's role in promoting a healthier body narrative. This conversation, facilitated by Salon, invites readers to reconsider preconceived notions about nudity and body image. The piece serves as a reminder of what naturists already know: that nudity is not inherently sexual or shameful, but rather can be a means to foster self-acceptance and body positivity. Encouraging these dialogues is crucial in shaping a more inclusive and understanding perspective on body diversity for future generations. 🚀
---
Topless activists pour mud on themselves in Rome amid Europe-wide climate protests
Environmental activists staged protests across Europe, including Rome, London, and Geneva. In Rome, topless activists from the 'Last Generation' group covered themselves in mud to protest against fossil fuels and climate change. Protesters disrupted Shell's shareholder meeting in London, criticizing the company's environmental impact and record profits. In Switzerland, activists briefly disrupted air traffic by accessing a runway at Geneva airport. These protests highlight the urgent need for action on climate change.
The use of nudity by activists in the 'Last Generation' group in Rome was obviously successful in drawing media and attention to their cause. Nudity has been employed as a form of protest to challenge societal norms and attract media attention by many groups, as I have recently written about here on Planet Nude. By baring their bodies, activists aim to make a bold statement about climate change and the need for environmental action.
The use of nudity in activism always evokes mixed reactions and invites debates about appropriateness and effectiveness. Share your thoughts in the comments. 🚀
---
Related to
nude activism
:
---
Think of the children!: Relationships between nudity-related experiences in childhood, body image, self-esteem and adjustment
In significant research led by Professor Keon West of Goldsmiths, University of London, the impacts of naturist activities and exposure to non-sexual nudity during childhood on body image were examined. The study discovered a positive association between childhood experiences with nudity and body image, challenging common societal concerns regarding potential harm. On the contrary, the studies found either positive or marginally significant trends towards better adjustment with naturist activity.
However, the study does not suggest abandoning caution surrounding naturist activities with children. Instances of abuse should still be seriously considered and strong protective measures should be enforced. But, it suggests that banning children from naturist activities, which may have potential benefits, is not justified by the current empirical evidence.
While acknowledging its limitations such as the cross-sectional design, the validity of the naturist activity measure, and cultural representation, the study underscores the necessity of further research. Professor West's leadership in navigating this sensitive area is commendable, filling an essential gap in our understanding of the impact of naturist activities on children's wellbeing. This research highlights the need for organizations to support similar initiatives to build an evidence-based understanding and inform balanced decisions about such socially pertinent issues. 🚀
---
I Spent 24 Hours Freezing my Naked Ass Off at a Naturist Club in Pōneke
Rachel Barker's colorfully penned piece in VICE recounts her comical yet insightful immersion into a naturist club in Pōneke, New Zealand. Armed with her inherited affinity for nudity and a dose of curiosity, Barker ventures into the misunderstood world of naturism, confronting misconceptions, the cold, and personal inhibitions. The essay encapsulates the core spirit of naturism, challenging societal norms and taboos surrounding nudity. Barker emphasizes that the naturist experience extends beyond simple nakedness to a community built on acceptance, shared experience, and freedom from societal constraints. These aspects of naturism, from the emphasis on non-sexual social nudity to the feeling of freedom and the community spirit it fosters, come across as distinctly positive in the piece.
Vice should be lauded for their consistent progressive representation of naturism, giving it a fair spotlight amidst mainstream media that often misunderstands or misrepresents the practice. By publishing this candid, empathetic, and humanistic exploration, Vice has provided an open-minded perspective on a community often relegated to the shadows or misconceived as deviant, fostering a more comprehensive understanding and acceptance of the naturist way of life. 🚀
---
A Pakistani Artist Reimagines Her Relationship With Shame and Bodies
In her collection "Beghairati Ki Nishaani: Traces of Shamelessness," visual artist Misha Japanwala makes a bold and transgressive statement using the human body as a canvas. Taking plaster casts of 70 anonymous Pakistani individuals, she creates a tangible exploration of shame, body autonomy, and the courage of stepping outside societal norms.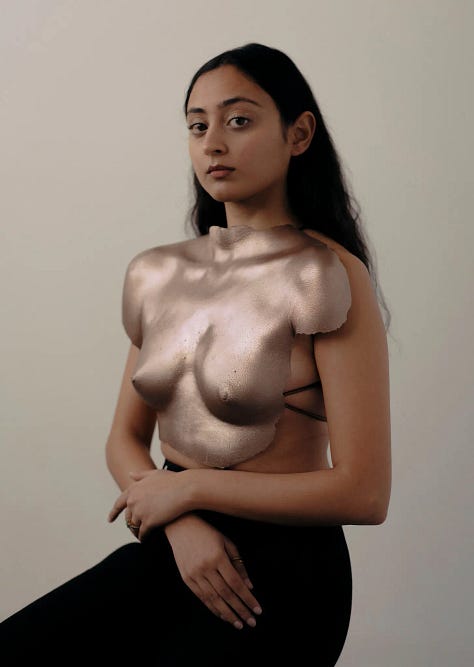 The collection divides into three parts. The first features body castings of artists who unapologetically confront societal expectations in their work. The second presents hand sculptures of pioneering figures in arts and education. The final and perhaps the most striking series uses plaster casts of nipples as a unique identifying element, a symbol of shared identity, and resilience for a diverse group of participants, including those who have faced personal upheavals or health crises.
Japanwala's works, designed to resemble oxidized copper statues worn by time, project an image of defiant resistance against gender-based violence. They not only document a contemporary struggle but also envision a future record of this crucial battle for gender equality.
It's refreshing and inspiring to see nudity and the body employed in this way – not to titillate or shock, but to tell a story of resilience, rebellion, and hope. Japanwala's work underscores the power of the human form as a tool for societal critique and change, challenging us to confront our own biases and notions of shame and propriety. A bold statement indeed, and one worth celebrating. 🚀
---
Mem Fox book banned from schools in US county over images depicting nudity
Mem Fox's book "Where is the Green Sheep?" has been controversially banned from the shelves of school libraries in Duval County, Florida for featuring an image of the book's main character, a child, having a bath. The ban has sparked outrage among advocates of children's literature. This decision has shocked many, considering the book's simple story of a search for a missing sheep and absence of any explicit sexual content.
This incident dovetails troublingly with recent events in Florida, where an escalating series of restrictions and regulations on children's education and media have ignited concern over free expression and the wellbeing of children. These include, just within the last week of this writing, the expansion of the "Don't Say Gay" law, a ban on discussing sexual orientation and gender identity in classrooms, and a case involving a teacher under investigation for showing a Disney film featuring a gay character. Moreover, publishing giant Penguin Random House is suing a Florida school district over book bans, underscoring the growing tensions over censorship. Critics argue these actions depict an authoritarian bent in the Florida government's stance on educational content.
These developments are part of a broader, divisive culture war that, ironically, harms the very children it purports to protect. A crusade against imagined threats, like concealed messages in children's books or nudity in art, can create a repressive environment that stifles learning and understanding. While shielding children from inappropriate content is important, these bans may instead instill fear and intolerance, ultimately doing more harm than good. 🚀
---
Utah law requiring porn sites verify user ages takes effect
In Utah, a new law has been enforced that requires adult websites to verify the age of their users. This measure, primarily aimed at preventing children from accessing explicit content, is the second of its kind to be enacted in the US. While this law has been heralded by anti-pornography advocates, it has faced opposition from adult content websites, who perceive it as part of a broader moralistic anti-sex political movement. The law has also been criticized for potentially infringing upon digital privacy rights.
This recent development poses some significant implications for nudist communities, particularly in terms of their presence on social media. As regulations such as these age verification laws become more prevalent, social media companies may become increasingly cautious about their content policies, which already tend to be rather conservative when it comes to nudity. This could hamper the efforts of nudist individuals and organizations to promote non-sexual nudity as a legitimate lifestyle choice.
In the broader societal context, the conflation of nudity and pornography presents a significant challenge for nudism. Despite being a legal form of expression, nudity is often automatically categorized with explicit content by algorithms, which tends to push it down in terms of visibility and accessibility. As a result, the nudist message of body positivity and acceptance often struggles to reach a wider audience.
It is crucial that a distinction is maintained between non-sexual nudity and explicit adult content, both in social and legal contexts. As the Utah law and similar measures take effect, it is to be hoped that social media platforms and society at large can better differentiate between these two and ensure that the rights of nudists to free expression are adequately protected. 🚀
---
Naked visit to the Rotterdam museum
Last month we wrote about a naked art museum experience in France. We're happy to share another one, this exhibition at Kunsthal Rotterdam, where visitors had the chance to explore the imaginative and surreal works of Patricia Piccinini in the nude. Piccinini, an Australian artist, is renowned for her lifelike sculptures that merge the human and the animal, creating fascinating, yet uncanny, hybrids that push the boundaries of our understanding of nature and life.
The nude tour at the Kunsthal Rotterdam, dubbed the 'Naked Tour', was an exclusive evening event that offered an entirely different way to engage with Piccinini's 'Metamorphosis' exhibition. Visitors were asked to shed their inhibitions, and their clothes, to fully immerse themselves in the artist's surreal world. It was an experience that went beyond merely viewing the art; it was a social nude event that emphasized freedom, vulnerability, and open-mindedness.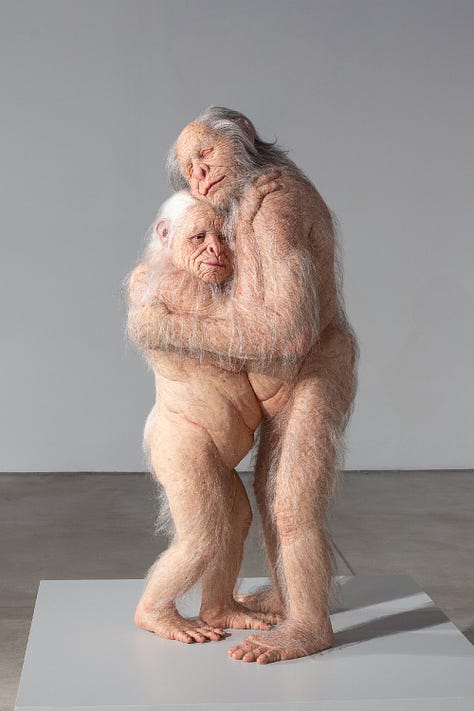 I've enjoyed Piccinini's work for years and have been lucky to see at least one of her pieces in person. She has an incredible attention to detail and she always manages to provoke empathy and acceptance for the unfamiliar and different. I would love an opportunity to do this. 🚀
---
98.3 TRY Social Dilemma: Can I Tell My Neighbors To Stop Skinny Dipping?
In a social dilemma posed by a listener named Rick on 98.3 TRY radio station, he seeks advice on how to deal with his neighbors who enjoy skinny dipping in their visible backyard pool. He is considering asking them to stop, believing their actions to be his business because it is visible to his family. However, the radio host disagreed, arguing that the skinny-dipping neighbors aren't causing harm and their activities in their yard should not concern Rick.
It's strange the way our culture has bred in people the belief that they have some right to control what they see outside of their own homes. The world is happening around you. You can't control it. You have no more control over what your neighbor wears in his pool than he does over what you watch on your TV. Live and let live. 🚀
---
That's a wrap on this month's News of the Nude. We would love to hear your thoughts or takeaways in the comments. Give us a shout! 🪐
---
We hope you're enjoying
Planet Nude
.
If so, consider a paid subscription.
Your membership comes with exclusive content and supports our work.
1
Outlets are reporting this as the inaugural event, but it is in fact the second event. It's just the first year being held in Mexico City. Last year was Guadalajara only.
2
https://verilymag.com/2015/08/mtv-vma-nominations-nicki-minaj-anaconda-racism-sexism-women-music-industry-getting-naked-music-videos