Discover more from Planet Nude
A newsletter and podcast promoting body freedom and exploring nudity and nudism in history, culture, politics, and art.
Over 2,000 subscribers
News of the Nude, no. 4
A smattering of nude-adjacent news items that caught our eye in April 👀
Welcome to this month's edition of News of the Nude.
There are five Saturdays in April, which worked things out in such a way that there's been an extra week over the average between this and the previous editions of News of the Nude. As a result we have a little more to get through than usual. Buckle in.
As we explore the variety of stories from around the globe this month, a few common themes emerge. A noticeable anti-education undercurrent runs through several of these stories, along with a recurring concern for protecting children, though the specific threats are often implied or unclear. In one part of the world, naturists celebrate new freedoms for swimmers in public pools, while elsewhere, dressing rooms are enforcing no-nudity rules. Germany continues to lead the world in free body culture. The perpetual tug of war between censorship and speech persists, while television programs stir controversy over the display of pixelated flesh. Amidst these challenges, we also bring you stories of innovative and experiential social nude events that celebrate the human body in new ways.
Scroll down to read them all, or pick a headline to jump ahead:
Join us as we delve into these stories and more. 🚀
---
Florida nudists concerned over proposed legislation
Proposed legislation in Florida targeting drag shows and massage parlors has raised concerns among nudists, who fear their non-sexual activities could be unfairly criminalized. Lobbyist Ramon Maury, who represents the B.E.A.C.H.E.S. Foundation Institute, warns that pending bills may potentially be used against naturists.
If this story is a little bit familiar, that may be because it was picked up from this blog! Apparently tipped off by our recent article "Dark clouds forming: Threats to Florida's nude beaches and resorts" by
, Axios writer Dierdre Funcheon did the journalistic work to help validate and substantiate an issue that we've been beating the drum about here on this newsletter for some time. I was heartened to see this article getting boosted. When we started this newsletter four months ago, we set out to try and influence the dialogue online about nudism and naturism in a positive way. I look at this as one small indication that that is happening, at least on some level. 🚀
In case you missed it, here's Shirley's original post:
---
Pa. nudist park which hosts 'Super Bowl of Naked Volleyball' says summer season is a go after environmental scare
The White Thorn Lodge, a family nudist campground in Darlington, Pennsylvania, has announced that its summer season will go ahead as planned, despite concerns about the environmental impact of the East Palestine, Ohio train derailment. The resort, which hosts the annual "Super Bowl of Naked Volleyball" tournament and a naked 5K run, is less than 10 miles from the site of the train derailment. However, the White Thorn Lodge stated on its website that it has been monitoring the situation closely and test results have determined that the resort can open for the upcoming season. The announcement also thanked patrons for their support and assured them that any changes to the schedule would be posted on the resort's website and social media platforms. This news comes as a relief to those who enjoy the nudist lifestyle and those who participate in the resort's unique events.
We often focus on political or social threats to nude freedoms on Planet Nude, but perhaps the most profound existential threat to a nude way of life is environmental. After all, nature is the foundation of naturism, and our relationship with it and its preservation should equally be the foundation of our philosophy. 🚀
---
Museum guests will have to strip NAKED to enter nude exhibition: Visitors to French art venue will be told to remove clothes...then invited for a drink and a chat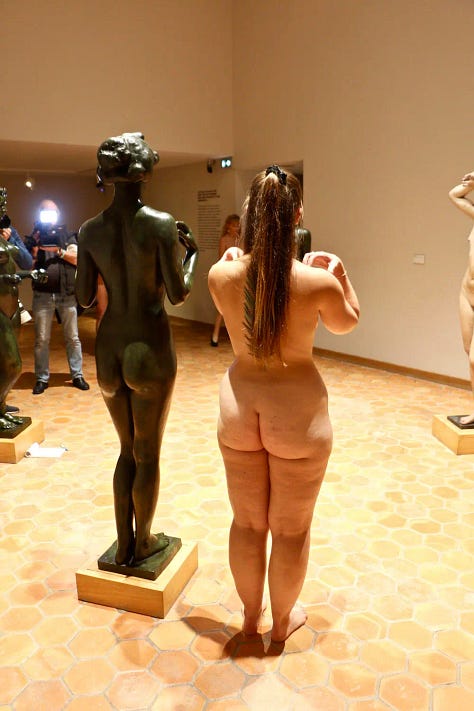 The macLYON museum in Lyon, France, is hosting an innovative exhibition called "Incarnations," which invites guests to experience the exhibit in the nude. This unique event focuses on the human body as an organic dimension and explores its philosophical, psychological, and sociological aspects. The French Naturist Federation, or Fédération française de naturisme (FFN) plays a key role in organizing the event, helping participants experience the art in an immersive and respectful way. This collaboration between macLYON and FFN truly showcases a cool and creative approach to connecting with art and the human body through social nudity.
Unfortunately, the Daily Mail's coverage of the event doesn't provide much useful information about the exhibition. If you can read French, a better article with more insightful details can be found here. 🚀
---
A new home for the Vagina Museum
This isn't really a headline, it's a GoFundMe. Just putting that out there up front lest you assume I'm trying to pull a fast one. Specifically, it's a GoFundMe for the Vagina Museum, which is the world's first museum dedicated to vaginas, vulvas, and gynecological anatomy, aiming to break taboos and educate people about these body parts. The UK organization lost their old building in February 2023 and are currently seeking a new location. Supporting the museum's efforts to find a new home allows them to continue their vital mission of ending stigma, empowering individuals, and fostering open conversations about women's health and anatomy. It will also ensure that they keep making fascinating and entertaining posts to their twitter account, which I quite enjoy following. 🚀
---
Naked landlord not a reason for rent reduction, German court rules
A German court has ruled that a landlord sunbathing naked in a common courtyard is not a valid reason for tenants to seek a rent reduction. The case involved a human resources company in Frankfurt's Westend neighborhood, which partially withheld rent payments due to the landlord's nudity. The Frankfurt's Highest Regional Court sided with the landlord, stating that his actions did not impair the usability of the rented property and aesthetic sensibilities were irrelevant. The court did allow the tenants a 15% rent reduction for three months due to noisy construction projects in the area, but not for the landlord's nudity.
One of multiple examples in this edition of News of the Nude in which Germany, where Freikörperkultur (FKK) or free body culture is quite common, is ahead of the pack when it comes to nude rights. The case showcases the balance between personal freedom and respecting others' sensibilities in shared spaces, ultimately upholding the idea that nudity alone is not a valid reason to "strip" a landlord of his rental income. Oof. Even I'm ashamed of that pun. I'm sorry. I'll go wait in the car. 🚀
---
Planet Nude is a reader-supported publication. To receive new posts and support our work, consider becoming a free or paid subscriber.
---
I work for a nude cruise. It's liberating — but there are rules. Passengers can't get too excited, and clothes must be worn to dinner
The article features an interview with Kat Whitmire, the vice president of sales for Bare Necessities Tour and Travel, a nudist-cruise company. Whitmire discusses her journey from being introduced to nudist cruises in 1997 to becoming a full-time employee organizing and participating in these events. The cruises, which have strict rules, emphasize nudism as a non-sexual and body-positive experience that encourages deep friendships and connections among participants. Whitmire shares anecdotes and details about the cruise destinations, theme nights, and the challenges of organizing such events.
This article provides a refreshing and fair portrayal of nudism, treating the subject with respect and positivity. If anything, the piece was a little too benign—despite the mildly suggestive headline—bordering on a promotional "puff" feature for Bare Necessities. Still, it's uncommon for American publications to approach nudism in such a positive way, it seems. I wonder if this disparity isn't in part due to the fact that nudism is often linked to smaller clubs and camps, public beaches, and other less profitable operations, and thus are less likely to be taken as seriously by mainstream media. Bare Necessities is a big business, and can attract attention and fair treatment from media outlets like Business Insider.
I do see one important lesson to be gleaned from Bare Necessities' success. To change the narrative around nudism, it is crucial for smaller clothes free clubs and communities to be media-savvy and and be proactive in shaping their own narrative for the outside world. By sharing positive stories, emphasizing the benefits and values of nudism, and engaging with the media in a strategic and thoughtful manner the way Bare Necessities has here, the nudist community can perhaps shift public perception and foster a more accurate and balanced understanding of the nudist lifestyle. 🚀
---
Restaurant owner has window smashed as nudist encampment in Beverly Grove continues
ABC7 reports that a window was smashed at La Paella restaurant in Beverly Grove, Los Angeles, near a homeless encampment where nudists have been gathering. The owner has expressed her frustration with the situation and plans to visit Mayor Karen Bass' office daily until the issue is resolved. This report came just days after ABC7 first reported a complaint by the same business owner about a homeless encampment adjacent from her business, in which one person was once reportedly seen nude. This has led the news network to use the term "nudist encampment" to falsely describe the houseless dwelling, which seems equally untruthful and insulting both to the unhomed and to nudists. As
pointed out recently on her newsletter The Naturism Community
, there isn't an actual nudist anywhere to be found in this story. Due to the fact that the word "nudist" was used sensationally (to news media, "nudists" is akin to "Florida Man" in its power to draw clicks), the news story has been picked up by other outlets and has spread internationally.
This is clearly a nothingburger story. No perpetrator of the window smashing has been identified, and nobody other than the original business owner seems to be a complainant to this issue. It seems quite obviously to be news media directed as criticism of Los Angeles's new mayor Karen Bass, for whom the homeless problem in the city has become an electoral mandate. This has unfortunately been amplified by the ever hungry newswire, as if the world burning and civilization collapsing isn't newsworthy enough. 😂
Interestingly, this story also relates to another essay I recently wrote for Planet Nude about unhomed people being particularly vulnerable to anti-nudity ordinances. As this media story seems to corroborate, that vulnerability extends to social stigma as well as the law. Get spotted nude in the only private space you have access to by a nosy neighbor, and suddenly your only home is a "nudist encampment"—or in other words, a nuisance. 🚀
---
A quick break for some shameless self promo
If you see the value in the work we are doing here at Planet Nude, I encourage you to consider upgrading to a paid subscription. Not only will you get access to exclusive content and discussions, but you will be supporting the research and writing that goes into this newsletter, which is substantial. Further, you will be supporting the work of our podcast, Naked Age. If you click the button below and sign up right now, we'll even give you 20% off.
Okay, moving on. 🚀
---
Florida Public Nude Beaches Vs. Drag Shows
I already addressed the misleading comparison drawn between nudism and drag performances in the
brothers' recent tweets
in last month's
News of the Nude
. Since then, however, they have doubled down on this absurd notion with their recent article, which has compelled me to reiterate my concerns.
Nudism is a nonsexual practice with a long history which is appropriate for all ages, Drag is a performance-based form of expression (which is also perfectly appropriate for all ages, generally speaking). By conflating these two completely unrelated things and attempting to scapegoat nude beaches, the Krassensteins heavily imply that nude recreation is somehow illicit or immoral. I really reject this framing. With this line of rhetoric they not only risk alienating nudists, many of whom are also part of the LGBTQ+ community, but they utterly fail to address the actual situation in any productive way. Their continued propagation of these assertions is both troubling and divisive. I encourage the Krassensteins to reflect on their messaging, as it may contribute to further division. 🚀
For anyone interested in further reading on why this comparison is problematic, I recommend reading another excellent recent article, "Scapegoating the Nude Beach" by Planet Nude contributor
for his own newsletter
Read it now:
---
This Morning sparks huge viewer reaction after model goes topless for live breast examination
The article highlights a live segment on the British TV news/talk show This Morning, in which Dr. Sara Kayat conducted a breast examination on a cancer survivor, demonstrating the correct method for detecting breast cancer symptoms. Presumably due to the medical nature of the segment, This Morning producers did not blur or censor the woman's breasts. The segment elicited a range of reactions from viewers, with some expressing surprise at the display of nudity on daytime television. Nonetheless, the majority of viewers commended the show and Dr. Kayat for the informative demonstration, stressing the significance of teaching women the proper way to conduct self-examinations.
It's understandable that some people might have strong feelings about nudity on television, but the harsh reactions directed towards others make situations like this even more stigmatizing. Instead of focusing on the educational value and potentially life-saving information provided by such demonstrations, these negative reactions only serve to further stigmatize an already sensitive subject.
Interestingly, this story was somewhat controversial when it first aired in late March but has since been overshadowed by the heated debate surrounding Channel 4's Naked Education. The controversies around both shows reveal a serious issue regarding the acceptance of nudity in educational content within the UK, highlighting the need for a more open-minded and tolerant approach towards nudity when it contributes to informative and educational purposes. 🚀
Click through to the comments at your own risk:
---
Woman Runs Virtual London Marathon Topless To Combat Mastectomy Taboos
Elsewhere in breast news…
Louise Butcher, a 49-year-old breast cancer survivor, ran the virtual London Marathon topless to combat mastectomy taboos and to show her scars proudly. Despite having undergone radiotherapy treatment and a mastectomy, Butcher completed the 26.2-mile race, drawing attention to her cause and receiving applause from people of all ages.
This story highlights the therapeutic potential of embracing body freedom as a means to cope with life's challenges. By choosing to run topless, Louise Butcher demonstrates how breaking free from societal norms and expectations can serve as a powerful form of self-expression and healing. By reclaiming her body and proudly displaying her mastectomy scars, she invites others to confront their own fears and insecurities, ultimately fostering a greater sense of acceptance and support for all bodies, no matter their journey. It's a message that nudists and naturists know well, but sometimes fail to contextualize when our message is often conflated with "it just feels good". While Louise Butcher likely would never consider herself a naturist, her message resembles a naturist message. 🚀
---
Twitter Circles Is Broken, Revealing Nudes Not Meant For The General Public
Twitter Circles, a feature for limited audience engagement, experienced a glitch revealing private nude content on users' main feeds. The breach raised concerns over Twitter's security and privacy, with blame placed on staffing cuts and CEO Elon Musk's leadership.
I don't have much commentary for this story, other than to say that Twitter sucks. It seems to me inevitable that the bastion for nudists to come together online that Twitter once was will eventually meet its demise under the new leadership. It has already taken big steps in that direction. It makes me sad, because nudists really need places to gather online in this day and age, if anything resembling a movement is to continue. I will miss what Twitter was, and I hope this newsletter can in some way provide some space for this.
Please feel free to leave a comment and communicate with each other in the threads. Let's keep the conversation going and fill the void left by Twitter's decline. 🚀
---
Naked Education: Controversial Channel 4 show receives 1,297 Ofcom complaints
The one news story that I just couldn't seem to ignore this month was the controversy surrounding Channel 4's Naked Education. In case you've somehow missed it, the controversy is centered around the show's portrayal of nudity in an educational setting, featuring adults disrobing in front of teenagers to teach them about body positivity. Channel 4 has received nearly 1,300 Ofcom complaints since the show first aired, with objections related to nudity before the watershed, and presenting nudity to participants aged 14-16.
We've already discussed this controversy on this blog, so I don't feel compelled to comment any further on the controversy itself. I think that it is somewhat ironic, however, that this all erupted just a few weeks after the whole world was up in arms over the absurdity of parents in Florida refusing to let their children see Michelangelo's David's johnson. Now, notably, it seems the majority in this case seems to side with those Florida parents, in the "nudity is not for kids" camp.
The reactions to both situations expose society's discomfort with nudity and the human body, particularly when it comes to kids. While kids and teenagers themselves have nude bodies about which they are deeply curious, the widespread hesitance to expose them to nudity in various contexts suggests a deeply ingrained belief that nudity is inherently scandalous or sexual. Ultimately, the differing reactions to these scenarios highlight the complex and often contradictory attitudes society holds towards nudity. By examining these attitudes and questioning the rationale behind them, we can work towards a more consistent and constructive understanding of the role nudity plays in education, art, and body positivity. 🚀
Just a few of the many headlines scandalizing an educational TV program:
---
Berlin clarifies gender equality rules for topless bathing
This story was in the news last month and we wrote about it in the previous edition of News of the Nude. This great article, however, goes into much more detail about the case of Lotte Mies, a 33-year-old activist who challenged the discriminatory policy at a public pool in Berlin that required her to cover her chest while topless, as well as shares some history about nude swimming in Germany. Mies filed a complaint with the ombudsman's office responsible for compliance with Berlin's Anti-Discrimination Act, and as a result, the city's municipal pool operator issued a clarification that women, like men, can go topless at public pools.
Lotte Mies is an activist fighting against gender-based discrimination, driven by her belief that she should not be ashamed of her body, and that the perpetual sexualization of women's bodies should be challenged. By taking action, Mies is pushing for a change in societal norms and expectations around body image and gender roles. This case highlights the importance of challenging discriminatory practices to create a more inclusive environment for all, including transgender and nonbinary individuals. The clarification of the rules in Berlin stands in contrast to the more conservative views held in some other developed countries like the US, where societal norms still perpetuate gender-based discrimination. By addressing these issues and pushing for change, activists like Mies are working towards a more equal and fair society, setting an example for other countries to follow. 🚀
---
Swimmer 'body shamed' in surf club nudity row
In contrast to the above story, this recent story from Australia tells of ocean swimmer Nada Pantle, who received a warning letter for breaking a "no nudity" rule in the changing room of Terrigal Surf Lifesaving Club. The club's policy has been criticized as body-shaming, sending a negative message to women and girls. However, the club defends its stance, citing complaints about children being exposed to naked adults in the shower area and the need to make children feel safer.
This seemingly small-scale incident has made international headlines, leaving many to wonder why such a story gains so much attention. The popularity of these stories for news outlets likely stems from their sensational nature, as they tap into societal debates about public nudity, body shaming, and protecting children.
Still, one must question the logic behind a changing room at a swimming pool having a no nudity policy to protect children in the first place. Nudity is a natural part of the human experience and should not be considered harmful or taboo. In fact, by enforcing such policies, we may inadvertently contribute to body shaming and the stigmatization of nudity, instead of promoting a healthy and accepting view of our bodies. Ultimately, we must ask ourselves: How does that protect children? 🚀
---
They Posted Porn on Twitter. German Authorities Called the Cops
In this story which sounds like something our of Black Mirror, German authorities have been using an AI system called KIVI to detect and crack down on pornography shared on various platforms, leading to over a hundred porn creators and models receiving letters from the police threatening criminal charges. The AI system scans thousands of public posts and web pages daily, with a focus on content accessible by minors, causing many content creators to feel censored and scared.
The increasing use of AI in internet censorship raises several concerns and challenges. AI systems can be opaque, making it difficult to contest or question their decisions, which could lead to unfair censorship. Additionally, the potential for abuse by authoritarian governments poses a significant threat to free speech and privacy. Balancing the need for regulation and protection of vulnerable populations with the preservation of individual rights and freedoms will be a critical challenge as AI continues to shape internet censorship. 🚀
---
Private Dinner Party: Clothing Not Allowed
The Füde Dinner Experience started as an invite-only event, but due to its popularity, it opened up to people who learned about it through Instagram or word of mouth. Every dinner hosted by Charlie Ann Max has sold out, attracting inquiries from aspiring nude diners worldwide. The event's appeal varies; some attendees wish to feel more connected to their bodies, while others want to make new, uninhibited friends. Although the events are not exclusively for women, men can attend if previous participants vouch for them. Each dinner has a theme, such as "Self-Love" or "Muse/Museum," and the environment is designed to resemble Renaissance paintings to create a romantic atmosphere. Charlie Ann Max hopes to turn Füde into a full-time, profitable business.
It's interesting to note how nudism used to be this sort of clearly defined recreative activity one partook in, and how the line has blurred over the years. Traditional nudist gatherings focused primarily on the practice of social nudity in mixed gender settings, while contemporary events like the Füde Dinner Experience incorporate additional elements such as closed groups, art, self-love, and body positivity. For many, the term "nudist" might be seen as limiting, as it may not fully capture the broader objectives and experiences these events aim to offer. The shift in perception and presentation of nudism reflects societal changes, including increased acceptance of diverse body types and an emphasis on self-expression and authenticity. By distancing themselves from the "nudist" label, events like Füde will appeal to a wider audience who may be more interested in the underlying themes rather than the act of nudity itself. 🚀
---
Judge blocks Tennessee law restricting drag performances in public
A federal judge in Memphis, Tennessee, has temporarily blocked a law that would restrict drag performances in public, stating that it is likely "vague and overly-broad" in its restriction of speech. The law, signed by Republican Governor Bill Lee, aimed to limit drag performances in public or in front of children, putting Tennessee at the forefront of a Republican-led effort to restrict drag in at least 15 states. The judge—a Trump appointee—ruled that the state had failed to justify the restrictions with a compelling interest. This is a temporary restraining order, and the legal battle over the law is likely to continue. The final outcome of this case will determine whether this win is a long-lasting and significant victory for the community.
Worth noting that the judge's order protects drag as speech. Nudity can be protected as speech under similar circumstances, particularly when they are part of a performance or artistic expression. The extent of protection can vary depending on the context and the specific circumstances in which the performance occurs. In both cases, the protection of free speech is balanced against other interests, such as obscenity laws and public decency concerns. However, it is essential to recognize the artistic and expressive nature of these performances and the potential First Amendment protections they may receive.
Though this judgement is only a temporary order, I think the judges statement is remarkable:
"If Tennessee wishes to exercise its police power in restricting speech it considers obscene, it must do so within the constraints and framework of the United States Constitution" ... "It missed the mark"

- U.S. District Judge Thomas Parker
We couldn't agree more. 🚀
---
The case for getting naked
I think this last story provides an appropriate, hopefully palate-cleansing note to go out on. It was an astutely written, delightful read about the seeming decline in the acceptance of simple nudity in western culture. In "The case for getting naked,"
skillfully explores the importance of non-sexual nudity and the many ways society's prudish attitudes affect our perception of the human body. She offers humorous examples from around the globe and emphasizes the need to view the human body as not just an object of desire but a miraculous machine.
I think she really nails the overall themes of this month's News of the Nude, capturing the overarching temperature around nonsexual nudity in the world right now. I want to commend Kat for articulating this complex issue so brilliantly. I enjoyed reading this and wished I'd written it. I looked up more work by the author, and she has another great piece called "Do boobs have to be political?"—now that's my kind of title. Kat, if you're reading this, please consider writing something for Planet Nude? 🪐
---
---
Planet Nude is a reader-supported publication. To receive new posts and support our work, consider becoming a free or paid subscriber.