Discover more from Planet Nude
A newsletter and podcast promoting body freedom and exploring nudity and nudism in history, culture, politics, and art.
Over 2,000 subscribers
Navigating the public nudity hysteria
Principles to follow when countering hysterical rhetoric in defense of nudism
As summer ushers in a wave of colorful parades and joyous events, nudity in public spaces has come under the spotlight yet again, stoking the fires of controversy and misunderstanding. Misconceptions and stigma associated with events like the World Naked Bike Ride and Pride have exploded recently, fueled by an escalating narrative in the news and on social media equating nudity with sexual perversion. This rhetoric threatens not just nudists, but also the broader LGBTQ+ community, creating a dangerous and pervasive narrative that breeds fear and prejudice.
The cultural discourse now equates nudity with something inherently sexual or inappropriate. It's a tool used by critics to create folk devils, or bogeymen, out of nudists, and by extension, any form of public nudity. Amid the ongoing groomer panic, this narrative weaponizes public nudity, especially in attacks against transgender people and the LGBTQ+ community. Nudists are already being roped into this discourse, with recent examples of media-fueled outrage over events in Toronto, Madison, Seattle, and more.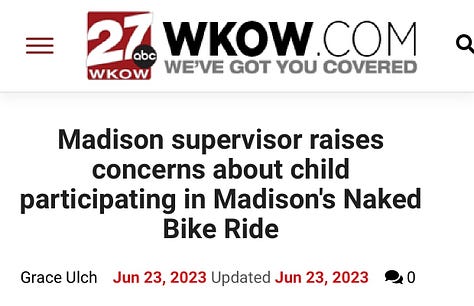 We must recognize that we are not dealing with an audience genuinely concerned about public nudity, sexuality, or even the welfare of children. The hysteria, vitriol, and hyperbole often associated with these debates serve a different purpose: they are carefully constructed narratives designed to elicit outrage, gain publicity, and leverage power. The enemy we face is not ignorance or prudishness but manipulation and deliberate misinformation.
The critical mistake that nudists and LGBTQ allies often make is falling into the trap of this engineered controversy, trying to engage in what appears to be a reasoned debate with critics. However, these critics do not argue in good faith. They switch topics at a whim. This pattern of behavior reveals a desire for publicity, reactions, clicks, and power over an earnest interest in dialogue or understanding.
What's the right approach?
Understanding this intricate web of attention-seeking, fear-mongering, and disingenuous argumentation is the first step in developing a response that does not merely play into the hands of the critics. It's not enough to state, "Nudity doesn't harm kids!" or "Nudism is non-sexual!" or "Don't drag us into this!" as these responses are reactionary, and even when true, often miss the underlying problem. The path forward requires a nuanced approach that recognizes the real issue at hand and confronts it head-on. Moreover, it is crucial to remember that tearing down people or groups who may engage in nudity differently than naturists, or whose actions do not align perfectly with our own ideals will not alleviate the moral panic surrounding nudity.
Here are a few principles to apply toward negative or misleading comments.
Principle 1: Avoid gratifying disingenuous critics
Understanding the real problem is vital. Critics capitalize on attention, so don't merely react to their claims. Instead, prioritize informing the general public and fortifying those affected by the misleading narratives. Avoid argumentative back-and-forths by all means necessary. Online trolls love to start using direct accusations meant to halt reasonable discussion. You don't have to engage with hostility.
Principle 2: Leverage truth and authenticity
Counter the spread of fear with solid, factual data and irrefutable real-life experiences. Emphasize the non-harmful nature of nudity and the diversity within the LGBTQ+ community. Using personal narratives humanizes the discussion, reminding everyone that real people bear the brunt of this rhetoric.
Principle 3: Foster constructive dialogue
Cultivate discussions that honor the complexity of these issues. Misleading tactics aim to simplify and scare, but acknowledging the underlying intricacies leads to genuine understanding. Strive to create a space where respect and inclusivity thrive. Don't engage with people on their own terrain. Better to establish ones' own playing field.
Principle 4: Unify and collaborate
Division is the weapon of critics; unity is our shield. Stand in solidarity with groups and people who advocate for the rights and acceptance of nudists and the LGBTQ+ community. Attempts to distance the nudist community from other groups who are being targeted by moralistic hysteria validates the hysteria to begin with, and undercuts any effective argument in support of nudism and naturism. Collaboration and support amplify our collective voice.
Principle 5: Aim for elevated discourse
Our goal isn't just to counter arguments, but to raise the quality of the conversation. Approach discussions with empathy, understanding, and a relentless commitment to the truth. By doing so, we reveal the critics' hidden agendas while cultivating a more inclusive and accepting society.
Takeaways
In the end, the aim should not be merely to win an argument but to elevate the conversation. To achieve this, we must approach the discourse with understanding, empathy, and an unyielding commitment to truth. By doing so, we can shift the discourse around public nudity and LGBTQ+ issues from a reactionary stance to a more nuanced and proactive one. Rather than simply countering critics who equate nudity with sexual perversion, we should be working towards informing the public, utilizing facts and personal stories, and fostering respectful dialogue. 🪐
---
We hope you're enjoying
Planet Nude
.
Join the community. Go paid for just $5/mo.
---
Keep reading: