Discover more from Planet Nude
A newsletter and podcast promoting body freedom and exploring nudity and nudism in history, culture, politics, and art.
Over 2,000 subscribers
Brett Marcus Cook's jubilant figures
Embracing nudity and celebrating community and identity in art
When I look at Brett Marcus Cook's art, I am struck by the way they celebrate the transcendental joy of nudity. The figures in the artworks are depicted in poses that evoke feelings of exaltation and reverence, creating a spirit of positivity and uplift.
The second thing that strikes me about Brett's art is the way they depict themes of community and family. These personal themes and this connection is reflected in the artwork, creating a comforting sense of authenticity and familiarity. Brett's reverence for these individuals translates to the art in a way that cannot be faked, the connection between the artist and the subject is palpable. This creates a very real sense of community.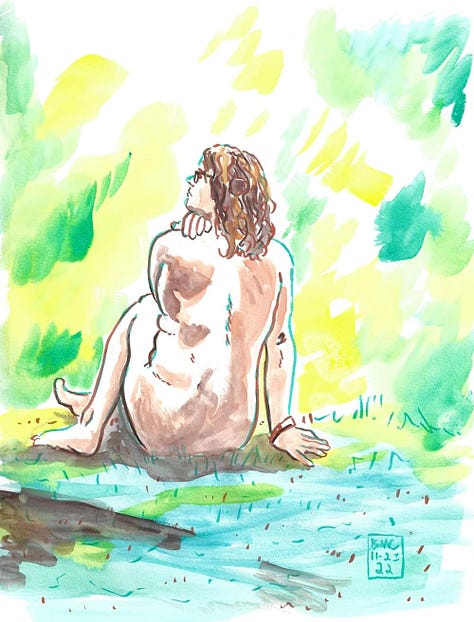 Their Nude November series—which consisted of an original nude portrait posted to Twitter every day during the month of November—was an example of this sense of community. Many of the portraits ended up being nudists Brett is connected with through social media, the people who they interact with and influence every day. Commemorating this community created an inclusive message, encouraging viewers like me to see the beauty and diversity in the same group we correspond with online during the mundanity of our daily routines.
I also appreciate that Brett's work honors nudism's unique culture. The paintings and illustrations communicate a reverence for nudism's past and present, and acknowledge the figures and images of that world. Their use of dance poses and body language celebrate the body, bringing a naturist-influenced view of liberation and transcendence to their images.
Despite the celebratory nature of their art, Brett also has a nuanced perspective on nudity and its representation in art, which is surely informed by their unique outlook as a nonbinary genderqueer artist in Appalachia. In addition to exhibiting their paintings and other works in various galleries and museums, Brett is also the founder of a figure drawing group called Defining Bodies and a member of the Neo-Appalachian Art Guild and the Fringe Art Group of the Tri-Cities. Following Brett on social media reveals that they are endlessly hustling to create and promote their art.
What draws me to Brett's work is the nuance and complexity of their perspective on nudity and its aesthetic representation. Brett's art honors the human form and nudity, using it to portray empowerment and human connection in a way that is compelling and thought-provoking for naturists and non-naturists alike.
---
When I look at your work I see themes of community, identity, chosen family. I see a certain pagan spirit. An uplifted celebration. Is that what you see?
It very much is! Chosen family is important as a queer person, and as someone who constantly feels like an alien and has a hard time fitting in throughout life. Most of the models in my work are from my figure drawing group Defining Bodies, which very much feels like my own little family. I want to celebrate who we are, and I try to pick models whose personality serves the idea behind the piece so that who they are and what they mean to me also shows through.
Why is nudity a compelling device for you? What has been a seminal experience? How has your work evolved since you began?
The human figure has always been my favorite subject, and there is no better way to depict it than nude. Our bodies are so versatile and endlessly fascinating and beautiful to me.
I guess the seminal experience for me would be my first figure drawing class in college. I was pushed to major in graphic design, but needed figure drawing as part of my general education credits, and I fell in love with it more than any other class, and it's what inspired me to form my own group years later.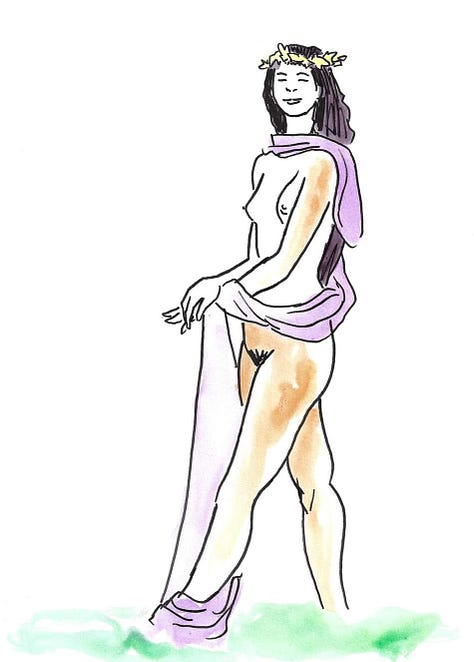 There have been life-changing moments within Defining Bodies too, like how modeling in stockings for the first time helped me realize I'm nonbinary, and getting to draw outdoors on a private farm and dance nude in the sun with friends was my first true communal nudist experience. A few of us actually missed drawing a pose because we were having so much fun dancing!
The biggest change in my work has been trying more and more to capture movement and emotional energy ever since I started dancing two years ago, and just coming up with ways to combine visual art and dance. I was in a performance last year where I danced and drew the other dancers, and we're working on a new art dance group to do more of that this year, which I'm pretty excited for.
There's a signature way that your characters/subjects interact with the world around them. Can you talk about your use of dance poses and body language?
I started taking dance classes largely because I didn't like being a stiff, inexpressive, and uncoordinated nerd. I thought maybe it'd help with modeling and understanding my body more, but it quickly became a huge obsession and driving force in my art. I frequently put my figures in big, open landscapes that to me feel freeing in the way that dance has helped me feel free to move my body in unique ways. I live in Appalachia, and while I enjoy hiking through the woods, it's the open valleys and fields where I feel most at home, where there's space to truly be myself, and I'm trying to capture that feeling.
What's something about nudity you wish more nudists knew? What's something about nudity you wish more artists knew?
I don't believe the idea that nudity makes us all equal, erasing status and things. It's not that simple, unfortunately. To say the least, it doesn't take into account disability or unequal access to healthcare. Our bodies are how we experience the world and they reflect that. We're all different, and we all have different issues of some sort with our bodies based on our experiences as well.
Nude art largely still seems to lean towards being either very sexualized or all too vulnerable. I'd like to see more being expressed, nudity can be used to depict any experience on the emotional spectrum! I'd also like to see more mundane nudes, where they're not really the focus or what makes the art interesting. I think that a key to normalizing nudity in general is expressing that yes, it can be this amazing, celebratory experience, but also most of the time we're not doing anything terribly exciting, you know? 🪐
---
Want to

support

? Do so at

brettpunkart.com

, and by s

ubscribing

to their Substack
---
Thanks for reading Planet Nude! Subscribe for free to receive new posts every week.